Perspective on Appalachian Ohio: The Philanthropist
How can philanthropy contribute to regional economic development in Appalachian Ohio? Cara Brook explains the sector's critical role in retaining wealth and enabling local initiatives.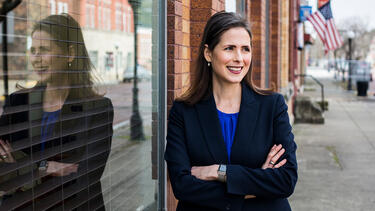 Trucks have carted away much of the wealth of Appalachian Ohio in the form of coal, steel, or lumber. But wealth has also left in the form of people—particularly educated and affluent people. Partly as a result, the region has historically received less philanthropic attention than other parts of the state. While charitable giving alone is unlikely to transform an economy, creating the institutional infrastructure to retain wealth is a critical aspect of ensuring that economic activity and regional development are linked.
The Foundation for Appalachian Ohio, which was established in 1998, is trying to ensure the region has the long-term financial capacity and community leadership to thrive. Cara Dingus Brook has been the organization's president and CEO since 2007.

Q: What does the Foundation for Appalachian Ohio do?
The 32 counties of Appalachian Ohio have 90% less philanthropic dollars than the rest of Ohio. Almost every county has a community foundation, except in Appalachian Ohio. There literally hasn't been infrastructure to retain the private wealth draining out of the region. We're changing that.
Ohio has the oldest community foundation—the Cleveland Foundation. It also has a number of the most established and best-endowed community foundations in the country. The Columbus Foundation has over $2 billion in assets. These foundations empower community leaders to make decisions about the local needs and priorities, year after year, in a consistent, sustained way. Appalachian Ohio hasn't had that.
Ultimately, the Foundation for Appalachian Ohio is building the infrastructure, capacities, and development capital that will help create a virtuous cycle. In really impoverished areas, philanthropy can be transformative.
Q: It sounds like the foundation is going through essentially the same process that's required for economic development—creating infrastructure, capacity, and a vision for the future—within the philanthropy sector.
Yes, that's exactly right. We find ourselves going outside what philanthropy does in a more established and resourced community all of the time. For example, we helped incubate an economic development organization, the Appalachian Partnership for Economic Growth (APEG).
You can never do only one thing in a community that's distressed because there are so many simultaneous needs. That's difficult, but you can see a lot of change because you're building from the ground up.
When things are so urgent, it can be hard to stop and develop the long-term reserve that allows for vision setting and systems-level initiatives that can transform a region. And of course, people want more jobs. They want jobs to support their families, and often, to keep their families together. Too many young professionals must leave to find employment.
More jobs are necessary, but we must also leverage economic development successes, especially when they are the result of tax incentives, into more private-sector investments that increase quality of life. Everyone agrees with this. It just takes the capacity through an organization like ours to help bring it to fruition, since so many other entities are focused on immediate needs.
Q: Why is the infrastructure of philanthropy only now being built for the region?
The region's history has been extractive industry with a lot of outside ownership—coal, iron ore, timber, even brick making. Our resources were extracted without retaining the wealth for the next opportunity. That resulted in a lot of our economic stress and, too often, a culture of diminished expectations. This is why many of our philanthropic initiatives are aimed beyond fundraising, to raising the psyche and spirit of the region.
One of the things our foundation is proudest of is how we have helped transform the image of a "child of Appalachia" to mean a person our region is proud of, an example of success and kindness in giving back. With an awards and public relations program, we have been sharing stories of success for more than 15 years.
This includes highlighting heroes from the region like John Glenn and Bob Evans. This year, we're honoring a 13-year-old girl whose mother got breast cancer. This little girl has sewn pink cloth drink koozies since she was five years old. She is raising money for Susan G. Komen to help eliminate breast cancer. She just sold 200,000 of the koozies to Walmart, she's been on the national news repeatedly, and she's still in junior high school. Sharing these stories can inspire everyone to take ownership and to understand that anyone can lead change.
I'll never forget something shared by Charlie Mechem, who is from the coal town of Nelsonville and became the CEO of Taft Broadcasting and then the turn-around commissioner of the Ladies Professional Golf Association. As he reflected on his experience of Appalachia over eight decades, he said he had watched the region experience loss and enter into a stage of grief due to the trauma of losing the mines. However, in his last visits, he has seen a new resiliency. People are recovering and moving forward from a new set of expectations. Our core beliefs about our potential are healthier. There is still a lot of visible work to be done, but this tells me we have turned an important corner, perhaps the most crucial one. We now think we can.
Q: What would Appalachian Ohio reaching its potential look like?
For us, it's an abundance of opportunity. We thought long and hard about what words to use for our vision statement. Do we use "prosperity"? "Happiness"? Since our end game is to remove the barriers that keep our citizens from experiencing a high quality of life—however they personally define that—what we're aiming for is an abundance of opportunity. In this situation, people can find what's right for them.
Q: How do you get there?
I think we have a very solid strategy that executed again and again, over a couple of generations, can lead to transformational change and to stopping cycles of generational poverty.
It will take unleashing the potential of all the people. Everyone has to understand they have a significant contribution to make. Maybe it's time. Maybe it's an idea. Maybe it's talent. Maybe it's treasure. It takes many, many, many, many gifts—in the broadest sense of the word—given over time. That's what's required.
Q: What's involved in standing up a philanthropic organization where there is such need?
People feel a strong identity being from Appalachian Ohio. They are proud of where they are from, and they know there's need. People are generous, and they have great joy in giving. But, to translate that into change, there has to be an infrastructure and a culture and an invitation.
When I started at the foundation as an intern, I didn't know what philanthropy was, but I fell in love with the way you could pull people together and make change. For most of that time, we were trying to go out and give grants to other organizations, but we struggled to cover our own operating budget. It was challenging, soliciting gifts and offering grants while trying to make sure we kept our own lights on.
"Ultimately, the Foundation for Appalachian Ohio is building the infrastructure, capacities, and development capital that will help create a virtuous cycle. In really impoverished areas, philanthropy can be transformative."
We decided to try something different. We did an IPO—Initial Philanthropic Offering—where we sought 100 gifts of $32,000. The $3.2 million covers five years of operating expenses, to let us just focus on our job. In six months, we were oversubscribed on our "IPO shares."
That freed us to launch a $100 million campaign in 2015. You're supposed to have 60% or 70% of your campaign accounted for ahead of publicly announcing it. We didn't have that kind of wealth to tap, but that did not hold us back. We decided, "The region deserves this, and we're going to do it." The way people stepped up to put in place planned gifts is amazing. We set a target of 2030, but we're already more than halfway towards our $100 million goal.
Q: How does the foundation focus its work?
I used to think, "We have to organize all of this. We have to get everyone marching in the same direction." That never works. Karl Zinsmeister has written about philanthropy as a radically decentralized influence on society and the original crowdsourcing. When I read his argument, it persuaded me that supporting the energy as it bubbles up, encouraging lots of people doing lots of different things—as long as everybody is doing something—would allow the most dramatic leap forward. So, rather than spend precious time and effort trying to coax everyone into the same direction, we embrace the fact that people have different giving interests. They come to us having had different life experiences and seeing different needs. Our calling is to help them follow their charitable passions to greatest impact.
Some want to help Appalachian Ohio as a whole. We've created a framework of five "pillars" of critical need to provide donors ways to give to issues that matter most to them. We see them as cornerstones of a healthy community. They are education, health and human services, community and economic development, arts and culture, and environmental stewardship
Some donors view "community" very locally. That's where county-level community foundations have been especially valuable. Our first pilot community foundation was in Guernsey County. They have no dedicated staff outside of us as an umbrella organization, but with strong volunteer leadership they have assembled almost $9 million. They've been directing $250,000 back into the county annually. It's not a large county, so when that type of money is given locally, year after year, you can see a huge difference. Citizens are now accessing educational and health opportunities that were not there before, and it is providing local capacity to respond to a major issue like the opiate crisis.
They even developed a model partnership with us for creating endowments for public school systems. Building on the example of Guernsey County, seven other counties have started foundations, and more than a dozen schools have started endowments.
Without an infrastructure to attract and manage estate gifts locally, a lot of individuals were leaving their legacies to organizations outside the region. The local foundations have been very successful with planned gifts. Keeping that wealth local creates resiliency.
Even people who have left for jobs elsewhere are paying attention; there's a lot of them and many have been very successful. It's amazing to me when I visit with that diaspora how connected to home many still are. They still get their hometown newspaper or check it online. The foundation is a way for that diaspora to give back. Their gifts are a way to marshal change.
Each bright spot, each successful project, is something to build on. With time and enough gifts of all sizes, we are moving the needle.

Q: How does philanthropic activity fit with other kinds of development?
For a long time, we have talked about regional development as a three-legged stool. It requires strong public-sector investment, private-sector investment, and philanthropic-sector investment. When all three are working together, it creates the conditions necessary to develop assets that are harder to measure but key to lasting success—human capital, intellectual capital, and social capital.
Philanthropy can make future-oriented, longer-term investments in areas that go beyond the scope of others' direct missions. Philanthropy's investments add value to the work of the other sectors, and we all achieve greater mission success.
Interview conducted and edited by Ted O'Callahan.