Leading through COVID: A New York City Doctor's Perspective 
In this series, we talk with Yale SOM alumni about their professional and personal lives during the global pandemic. Dr. Charles Powell '19, a graduate of Yale SOM's MBA for Executive program, is a doctor, scientist, and part of the leadership team at Mount Sinai Hospital in Manhattan. He is the system chief of the division of pulmonary, critical care, and sleep medicine for the Mount Sinai Health System and the Janice and Coleman Rabin Professor at the Icahn School of Medicine at Mount Sinai.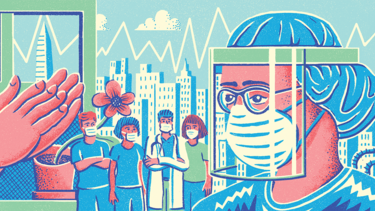 Adapted from a phone interview, May 8, 2020.

Preparing for a Flood
In January of 2020, we saw an outbreak of an unusual virus in Wuhan, China. The understanding was, at that time, that there was a small but distinct possibility that it could be the basis of a global pandemic. So, we, like all other medical centers, started preparations for a pandemic surge should it come to our area.
We dusted off the playbooks that had been prepared for SARS, MERS, Ebola—all the potentially devastating pandemics that, thankfully didn't afflict our hospital to any great extent. Having prepared for pandemics in the past is useful; we have experience with the process. We set up the emergency operation center. We started identifying potential needs in terms of beds and other supplies. We started sourcing protective equipment, ventilators, and all the other equipment we might need.
"I have never experienced so many patients coming in so quickly who were so ill."
By the end of February, the virus had made its way to the state of Washington and was poking around Westchester County in New York. So we began to learn as much as we could from the experience in Wuhan. I have academic affiliations with five major medical centers in China; I'm typically in China two to three times a year. I leveraged those relationships and established a teleconference at the end of February with a team of physicians from Chengdu who had been sent to Wuhan and Hubei province for a month to take care of patients right in the epicenter.
China learned painful lessons about how to properly equip and protect medical providers from exposure to the virus. From then on, the country was very successful keeping providers healthy. We were able to learn from them. We also learned a lot from their experience in terms of the medical care for patients who had COVID-19.

A Pandemic Hits New York
COVID-19 arrived in New York City in mid-March. I had never experienced so many patients coming in so quickly who were so ill. We were barely able to stay ahead in terms of having beds available. Mount Sinai is a network of eight hospitals. We were all on the verge of being overwhelmed in our ability to care for all the patients who needed us immediately.
We were working with forecasts based on robust modeling tools to estimate inpatient admissions looking ahead—it brought back operations management classes for me, where we used similar modeling to estimate demand and then know what our supply constraints are.
The model projected we would have 22,000 patients in our hospitals by April 11 or 12. That was a big, big problem because we have 2,500 beds. Like all other hospitals in the state, we increased our capabilities by putting beds everywhere. That got us to 4,200 but would have left us nearly 18,000 beds shy.
That was in the back of our minds as we were stretching to deal with the surge of patients. It created a feeling of it's never going to end and it's only going to get worse. It was so frightening to realize we might reach a point where we wouldn't have enough beds or ventilators to take care of everybody, but that was where we were.
"Social distancing and sheltering in place moved the peak from 22,000 to 2,100. It saved more lives than any treatments we can provide patients."
We used models of staff deployment that allowed us to extend everybody's capabilities. Supervising physicians were managing teams which let them handle many, many more patients than they could one-on-one. The model was used successfully by multiple medical centers.

Bending the Curve
New York put in place the orders for enforced social distancing on March 18. After that, we started to see the predicted peak number of patients hospitalized decrease between 1,000 and 3,000 every day.
Our peak ended up being April 8 and that was at 2,100 patients. Social distancing and sheltering in place moved the peak from 22,000 to 2,100. That's Public Health 101. It works. It really, really works. It saved more lives than any treatments we can provide patients, at this time.
COVID is an incredibly serious and very violent infection that is causing deaths amongst old and young, men and women, and in ways that we're still trying to fully understand. We still have many patients who have recovered from the acute illness, but in some the lungs were so damaged that they cannot come off a ventilator.
Every day we are pleased when patients are able to leave the hospital. We are also saddened by the number of deaths. At the personal level, I review the list of patients who die at Mount Sinai every day. That list typically has one to three names on it. But in COVID times there were over 20 names every day. Patients who died at our hospital. Even today the list will have nine names on it which is much higher than we ever had before.
Social distancing demonstrated what a functioning society can do in terms of having an impact on health. But the pandemic also highlights what can happen when society doesn't function. From my perspective, this should never have happened in the U.S., period. It was a failure of leadership in the U.S. that caused the pandemic to play out the way it has here.
COVID is a public health problem. Failing to directly address the public health problem will cause a second wave. That's not a theory; it's a reality. And when that happens, it will intensify the economic and business problems. It will cause more unemployment.
It's frustrating when there is a relatively clear-cut path forward, but our society's leadership doesn't have the wherewithal or the will to engage in what's necessary to directly address the underlying problems.

Silent City, Silent Hospital
I live in New Jersey, but I've been staying in midtown Manhattan—in part because my days were so long that by the time I got home, it was time to go back in, and in part because even though I didn't spend much time in individual patients' rooms, and even though I was very careful, I really didn't want to put my family at risk.
Midtown is usually so crowded. Standing at an intersection waiting to cross, you wonder if you will make it because there is such a crowd of people coming at you from the other side. Since March 18, it has been eerie. The city is so desolate.
.
Normally when you're on a ward in a hospital, it's a loud, bustling place. There's a central station where monitors track patients' vital signs. There are all sorts of staff there—nurses, of course, but also social workers, nutritionists, pharmacists, and physical therapists. There are doctors and medical students going from room to room. Lots of those doors are already open and when you go in, patients have visitors at their bedside many hours a day. Their family and friends are there supporting them. They have brought food and drink.
Something that makes this disease and this situation so different is that every hospital had to ban visitors to reduce the spread of the virus. So now when you walk into a ward, every door is closed. On each door is a paper bag with a nurse's name; inside that bag is the protective equipment that the nurse uses to go into that room.
"Many of our providers, especially our nurses, have taken it upon themselves to spend time in patients' rooms, comforting them, and being a human link between the patient and their family."
The central station is all but empty except for the necessary nurses, doctors, and the clerk for the floor. It's much quieter. Fewer staff come in and out, to minimize contact. That means the patients are spending a lot more time alone. We all appreciate the impact of that sense of isolation, especially in somebody who doesn't know if they're going to get better. Not having a person next to them from their home or one of their friends to comfort them, that makes the tragedy of this even worse.
We try to mitigate it with video chats with family and friends. And many of our providers, especially our nurses, have taken it upon themselves to spend time in patients' rooms, comforting them, and being a human link between the patient and their family. That provides families some reassurance that yes, there is somebody looking after their loved one. That aspect of the disease doesn't get captured in the numbers, but it is a really important part of this journey.

Heroism and Suffering on the Front Lines
The incidence of infections in healthcare workers is unprecedented. The stress and the intensity of the effort extended by the healthcare workers is also unprecedented.
Some people have left their jobs. But those who stayed have a sense of duty, commitment, and selflessness. That attitude has been unbelievably inspiring. It is truly people walking into fire, knowing that providing care puts them at risk of getting exposed to coronavirus. But they know on the other side of that door is a patient who needs them. So they don't think twice.
In New York every night at seven o'clock everybody opens their windows or comes out on the streets and bangs pots and pans and claps to express their appreciation to all the healthcare workers. I think that sense of appreciation is really noticed by the healthcare workers. And that appreciation is earned and appropriate.
As the volume of patients has fallen, it's harder in some respects than it was before. You can't burn out when you're going at 110%, but once the adrenaline ebbs and you have time to reflect, that's when, I think, the stress becomes more manifest. People start to look a little bit more tired and down.
We've had and are expanding the mental health resources available to providers. We're encouraging our teams to take time off and regroup. We're trying to help everyone to get through this. There will be PTSD, no doubt, in providers. There will be PTSD in patients and their families. There's going to be PTSD for people who've been self-isolating for all this time. This has been a very stressful, traumatic episode in everybody's life. Everybody is going to be impacted by this for a long time to come. The mental health aspects are going to need attention.

A Shift in Focus
We have been trying to answer scientific questions all along, but especially since passing the peak. The virus causes disease that is much more severe than anything we had ever seen before at this volume. It was very mysterious in a lot of ways because it wasn't behaving like diseases that we had seen before.
I'm a physician scientist with a NIH-funded lab. My team, and other teams around the hospital, around the city, and around the country, are exploring different hypotheses about this coronavirus and quickly moving to study various treatments.
Because the hospital has a scientific infrastructure and because of our volume of patients, we were able to quickly ramp up and launch multiple clinical trials for multiple therapies. We've learned quite a bit and we are better able to provide useful therapies that have had a significant impact on patients' outcomes.
"We 'Gretzky' everything. Don't think about where the problem is today; think about where it will be tomorrow."
The usual rules of engagement have been suspended for COVID. Typically, launching a clinical trial can take months. Now, it's getting it done in a week or two. It doesn't mean you cut corners. It doesn't mean that the integrity of the review is in any way compromised. It's just really sped up. Patients need help now.
As someone who wears many hats, it's intellectually stimulating and challenging to look at problems from various perspectives—science, medicine, and business—to better manage the problems and to think strategically about where we need to go. I find that to be really very important and helpful.
There are two pathways I rely on. One, we "Gretzky" everything. Don't think about where the problem is today; think about where it will be tomorrow. We've certainly done that with COVID.
The other pathway is MacGyver-ing. We were forced into innovating on the fly. My team modified relatively inexpensive home sleep apnea machines to be used as hospital ventilators. They work for about 50% of ventilated COVID patients; the sickest patients do need the more sophisticated machines. We published the instructions for the modification so hospitals elsewhere can do the conversions should they face shortage of the much more expensive ventilators. When I led that project, I was channeling Rodrigo Canales' Innovation class.

The Financial Toll for Hospitals
Hospitals don't make most of their profit from inpatient operations. The margin and the profits come from ambulatory operations, and those were shut down around the country. The revenue that every hospital was counting on for 2020 went away. That's financial stressor number one.
Financial stressor number two is the expenses that were incurred to respond to COVID. We bought a thousand ventilators. We brought in hundreds of high-price staff from all over and had to pay a premium. We did very rapid construction using extensive overtime to put beds in the lobby, beds in the hallway, beds in Central Park.
In essence, we spared no expense to make sure that we had what we needed for our patients. Those expenses were not universal, thank God. Few places needed to meet the type of surge that happened in New York City. Some of those costs will be mitigated by FEMA funds, should they really truly arrive in full.
But stressor number one is still being felt widely, and it's a killer. Health systems across the country have huge losses. The Cares Act allocated hundreds of millions of dollars to hospitals, but it's not enough.
Without an opportunity to increase revenues, hospitals are exploring how to cut costs. At Sinai, we're trying to respect the sacrifices made by the staff who have been on the frontline. And we know when we're able to resume our business activities the staff are going to be really, really important for us to be successful. So the executive leadership all voluntarily took a 20% pay cut. We've instituted a hiring freeze.
Additionally, all non-union employees are part of a shared savings program whereby their work and pay are reduced by one to two days per week. They are eligible to apply for unemployment insurance from the state and from the federal government. For employees who earn under $180,000, their take home pay will be higher than their full time pay. However, we recognize the risk that these savings may come with the cost of our employees feeling that they're not considered to be valuable. That may persist even if we can restore their hours. And if all of these actions don't create sufficient cost savings, then there will be layoffs.

Navigating the Unprecedented
I've been asked how I managed, when my roles as a doctor, scientist, and administrator were all facing extraordinary demands simultaneously.
I think about my older daughter, Jessica. When she was a little girl, perhaps four or five, and she would do something cool or special, my wife and I would ask, "How'd you do that?" She would put her hands up by her ears and say, "I just did."
That's my answer. I just did.