Leading through COVID: Art as a Model for Navigating Uncertainty 
In this series, we talk with Yale SOM alumni about their professional and personal lives during the global pandemic. NYU professor and author Amy Whitaker '01 calls for embracing both rational and imaginative tools for solving the crises facing us.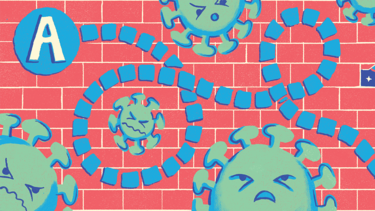 Adapted from an email, April 20, 2020.
I write as one of many university faculty members moving to teaching online. The change is a reminder that education is not just learning but also ritual and a sense of community. I write having lost a close family member, an acute reminder of not being able to gather. So much distancing has me noticing where analysis is succeeding and where imagination could help.
To respond to the pandemic, we need to hold imagination and analysis at the same time. A car is going five miles an hour, but it is also accelerating downhill. We cannot just rely on the snapshot of what is; we must imagine the acceleration. We must build a rational model of that acceleration but hold it lightly because every tap on the brake remakes it.
When I wrote the book Art Thinking, it got packaged as a business creativity book. I am struck more and more all the time how relevant the real thrust of the book is. The core idea of that book was how to invent point B—meaning how to move forward without a template. The idea was that if you are making a work of art you are not just going from a known A to a known B but inventing point B.
The pandemic is an acute loss of the point A world. That feels unsettling, but in fact we are always reinventing that known Point A world, even if, usually, it's done slowly.
In terms of the Point B we are creating, everything from climate change to the economy is an art project. Art is a laboratory for looking at the biggest hardest most important questions whether we can answer them or not. Those questions and those solutions are the ones that most require both rational analysis and imagination.