Leading through COVID: Feeding First Responders
In this series, we talk with Yale SOM alumni about their professional and personal lives during the global pandemic. John Wang SOM/YLS '09, founder of the Queens Night Market, describes redirecting the community camaraderie that built the market, now shuttered by COVID-19, into a project to feed first responders.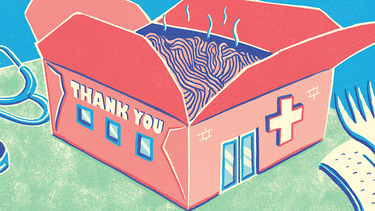 Adapted from a phone interview, April 15, 2020.
Just before this started, my wife and I traveled to celebrate our anniversary where we got married. Our flight back to New York was canceled. We've been stranded for over five weeks. I'm basically in the middle of nowhere in the California desert, working on Fuel the Frontlines, a project where vendors from the Queens Night Market are providing meals to healthcare workers at hospitals and EMS stations in Queens.
I've lived and breathed the Queens Night Market for six years. It's probably true with all entrepreneurs—even if I'm not actively thinking about it, it's in the back of my mind. Being resigned to the fact that we're not opening anytime soon changed my daily routine and my mental activity. It's definitely a stark contrast.
Night markets are essentially evening street fairs that let people get out and socialize, shop, eat some food, see some entertainment. They can be found in Taiwan, Hong Kong, and any number of global cities.
Six years ago, I brought the concept to New York City, doing it in a way that is affordable, accessible, and feels like a community event that reflects the diversity of Queens and NYC. Over a million people attended in the first five years. I don't think there's any doubt that the food vendors are the shining stars. We've had 90 countries represented through food vendors. Everyone comes for the unique offerings and diversity of food. Plus the fact that any dish costs just $5, although we've introduced some $6 exceptions over the last few years.
Last year, we averaged over 13,000 attendees each night. In terms of the number of vendors and visitors, we've seen strong growth, so we were looking forward to this year being our best yet.
We are also just publishing a cookbook with 88 recipes that celebrate the vendors and their background stories—most are immigrants. My wife Storm Garner adapted the biographical narratives in the book from her "Queens Night Market Vendor Stories" oral history project, which she started in her master's program at Columbia University.
It was really hard to suspend the night market. We hope the market can open again sometime in the summer or fall. Because we don't have a payroll—it's just me plus volunteers—we can be pretty nimble. We could be up and running within a few weeks, but we're not anywhere near thinking about that.
So at the moment I'm pouring all my energy into Fuel the Frontlines. We've got a close relationship with the borough president's office. When she suggested collaborating on feeding folks working at the hospitals, I jumped at the opportunity. She acts quickly when she sees something that's good for Queens. It really took form in less than 24 hours.
Tons of vendors have offered to participate. The amount we're paying them for meals is significantly discounted so we can provide as many meals as possible. I've learned a lot from their generosity and compassion. A lot of Queens Night Market fans have also donated to support Fuel the Front Lines. That was four weeks ago. We've now delivered nearly 10,000 meals. We will continue as long as contributions allow.
"It's hard to have much perspective right now. But I hope that one positive from this crisis will be that everyone feels closer together, even if social distancing persists."
The vendors and the supporters of the Queens Night Market are locked down as the virus hits the city so hard. Many have lost their jobs, yet their response has been to help those on the front lines. Around the city, most of the responses I've seen have been about building, strengthening, and even creating bonds. Everyone is suffering at the same time. Everyone feels like a victim, but also everyone can do something to help. There's a lot of mutual support and camaraderie bubbling up. Storm is conducting a second round of oral history interviews with vendors remotely now, to document the impact of the pandemic on their lives and businesses.
It's hard to have much perspective right now. But I hope that one positive from this crisis will be that everyone feels closer together, even if social distancing persists. Hopefully the psychological and cultural barriers between people have been reduced because of what we're all going through collectively.
When this is all over, we will need something that is pure celebration and cathartic release. The Queens Night Market is a place where everyone's welcome. A friend described it as a block party where all of New York City is invited. Because it's so affordable and diverse, there aren't the socioeconomic or cultural barriers that you might expect to find in a city that is so expensive and often stratified. Once it's safe to open again from a public health perspective and from a psychological perspective, there's going to be a hunger for community social events. I look forward to the Queens Night Market being that for New York again.

Order The World Eats Here, by John Wang and Storm Garner.