Values Proposition: Ken Ofori-Atta '88 on Going Where You Can Make a Difference
In this series, leaders tell stories about drawing on their core values in critical moments. We talked to Ken Ofori-Atta '88, finance minister of Ghana and co-founder of Databank, about taking risks to make society better.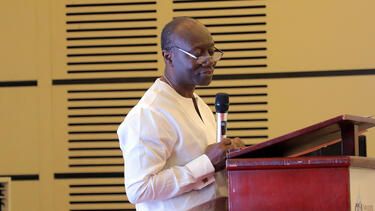 How much personal risk would you take on to make a material difference to society? Ken Ofori-Atta '88, co-founder of Databank and now the minister for finance of Ghana, describes navigating uncertainty through a belief in integrity and a drive to use his talents and resources in a way that will make society better.

My father was a deputy minister for finance and a member of Parliament, and three of the "Big Six," the founding fathers of our country, are family members, so there is a family legacy of public service. But for a while I thought I would stay on the Wall Street track. Before and after SOM, I worked in investment banking. I was a true New Yorker. At one point, I hadn't been to Ghana in 10 years.
A lot changed when I returned for a visit. I remember feeling the need to connect more and the desire to make a material difference to society. This feeling led to my determination to finally move home and get something started even though I didn't know at the time what it would be.
In 1990, I teamed up with James Akpo '89 and Keli Gadzekpo (a brother of Frank Gadzekpo '89). We borrowed $25,000, rented one little room, and created Databank, a firm that now has over $500 million under management. We developed the original stock exchange index for the Ghanaian Stock Exchange. Over time we began to do trading, advisory services, and IPOs.
At the time there was a lot of lucrative corporate restructuring work coming from the government because of privatization. But we did not participate because of our discomfort with the expectations that came with those opportunities. It was a difficult time for us, but we made a determination that we would not do government work. We focused instead on creating and championing a mutual fund industry in the country and subjected ourselves to the market instead of government approval.
Too often, we know that we can do much more but out of selfishness or fear we demur and deny the Republic and society our best.
That early choice helped maintain the integrity of the firm and helped build our reputation as pacesetters in the industry. There were slow times at the beginning, but I think Databank is a lot more resilient for having taken a lot of leadership in building the industry.
In 2014, the economy in Ghana had gotten so bad under the past regime that I asked myself whether to continue in the comfort of being chairman of Databank, aloof to the politics of the nation. My experiences at Yale and with the Henry Crown Fellowship Program of the Aspen Institute led me to believe that it was worth pushing the envelope for something I truly believe is the best use of my talents, especially if it will enhance social justice. It was time to move from the comfort of success to significant impact.
Too often, we know that we can do much more but out of selfishness or fear we demur and deny the Republic and society our best. One of my favorite Bible verses is 2 Timothy 1:7: "The Lord gave us a spirit not of timidity but of courage, love, and self-discipline." I decided that integrity called for more than just a compliant citizen. Evil has to be fought and I suppose I had to accept that my moment had come. I resigned from Databank and all my other commercial commitments to join the opposition party as a strategist and fundraiser.
I put my heart, head, and hands to it, and fortunately, we were successful in changing government. I got appointed as finance minister. Since then, it has been a challenging 24 months, but Ghana is now seen as a much better place to do business, and there's a renewed sense of hope. It's exciting to see how we can transform our society for the good of the majority of our people.
I've found incredibly capable public servants who have bought into our vision of excellence and the idea that results are our reward. But we also had to appoint a special prosecutor to begin to look at political and public service corruption.
Change will take time, but we are beginning to see pride coming up. We are building the country's self-confidence and expanding its capacity to achieve.
Dominus regit me!