Top Insights of 2019
In 2019, our most-read articles included research on the effects of racial stereotypes, two studies of the venture capital industry, and behavioral takes on riddles, photography, and the workplace.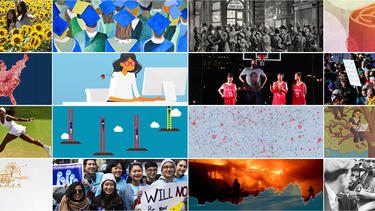 Will Machine Learning Transform Finance?
Charles Elkan • January 03, 2019
Data may well be the natural resource that defines this century. If so, effective application of machine learning can extract its value. Charles Elkan, Goldman Sachs' global head of machine learning, offers context and implications for finance.
What Riddles Teach Us about the Human Mind
Shane Frederick • January 29, 2019
Yale SOM's Shane Frederick and his co-authors investigated why certain riddles can confound us. They found that these "stumpers" expose mental models that blind us to possible answers.  
Big Issues: The Roots of America's Exceptional Inequality
Jacob S. Hacker • February 14, 2019
In Yale SOM's Global Leadership: Big Issues course, Yale experts lead discussions of some of the most significant challenges facing the planet. Yale political scientist Jacob Hacker joined the class to discuss the tax, policy, and political forces that have disproportionately benefited the richest Americans —and caused many to feel left behind.
How to Turn Your Mistakes into an Advantage
Taly Reich • March 22, 2019
People and companies alike often try to hide their mistakes from public view. New research by Yale SOM's Taly Reich reveals that this may be the wrong impulse: sometimes you're better off owning your gaffes.
Can the Occasional 'Nudge' Make You Better at Your Job? 
Laszlo Bock • April 12, 2019
As the head of People Operations at Google, Laszlo Bock '99 applied data analytics to human resources questions that have long been answered with hunches. His company Humu is now extending that approach for other organizations by providing AI-generated prompts to their employees. In a conversation with Yale Insights, Bock said that behavioral science, combined with an understanding of human feeling and careful attention to privacy, can help organizations run better
Stereotypes of Asian Americans Skew Estimates of Racial Wealth Gap
Michael Kraus • July 09, 2019
A study co-authored by Yale SOM's Michael Kraus found that the assumption that Asian Americans are a high-achieving immigrant group leads people to underestimate the gap in wealth between white and Asian Americans. Kraus says that the stereotype may obscure the needs of poor Asian Americans and contribute to bias against other groups.
Companies Invest in Startups to Repair Weaknesses
Song Ma • July 16, 2019
Many companies are creating corporate venture capital (CVC) arms, investing in startups relevant to their interests. A study by Yale SOM's Song Ma shows that companies tend to make these investments when they are struggling, in order to gain access to innovation and shore up an area of weakness. And the surprisingly popular tactic often works.
For Top Venture Capital Firms, Success Breeds Success
Olav Sorenson • July 26, 2019
Most investing success is short lived. As the disclaimer goes, past performance does not guarantee future returns. But venture capital is an exception, with top VCs beating the average year after year. A new study co-authored by Yale SOM's Olav Sorenson finds that consistent returns owe as much to a firm's reputation and early luck as the smarts of its employees.
Three Questions: Prof. Gal Zauberman on the Psychology of Taking Vacation Photos
Gal Zauberman • August 08, 2019
To snap or not to snap? By the end of the summer, you've probably collected more vacation photos than grains of sand in your shoes. In his research, Yale SOM's Gal Zauberman has explored how taking photos affects an experience. We asked him whether documenting our own sandy adventures can actually improve them.
When the School Mascot Is a Native American Stereotype
Xanni Brown, Michael Kraus • September 25, 2019
More than a decade ago, the University of Illinois officially dropped its mascot Chief Illiniwek, a stereotypical image of a Native American, but the image persists on campus and among alumni. A team of researchers led by Yale SOM's Michael Kraus and psychology doctoral student Xanni Brown found that a university community's acceptance of such a symbol affects students' sense of belonging and may decrease willingness to donate in the future.
Three Questions: Prof. David Bach on the NBA's China Dilemma
David Bach • October 09, 2019
Since Houston Rockets general manager Daryl Morey tweeted in support of pro-democracy protests in Hong Kong, the NBA has struggled to calm anger in China without alienating audiences in the United States. We talked with Yale SOM Deputy Dean David Bach, an expert on business-government relations and global markets, about how world-spanning organizations should navigate conflicting values in key markets.
To Prevent Financial Crises, Regulate Short-Term Debt
Gary B. Gorton • October 16, 2019
Financial crises seem irrevocably intertwined with market economies. Yale SOM's Gary Gorton argues that this is because short-term lending, while essential to the economy, is also vulnerable to panic when parties lose confidence in each other. In a new paper, Gorton proposes a method of regulating short-term debt and preventing future crises.
Researchers Propose New Method to Hedge against the Risk of Climate Disaster
Stefano Giglio, Bryan T. Kelly • October 29, 2019
Financial markets are supposed to price risk. But there aren't many financial tools for managing perhaps the biggest risk facing the world: climate change. Finance scholars at Yale SOM and NYU have put forth a proposal to help markets make a difference in combating climate change.
What We Talk about When We Talk about Stock Market Crashes
Robert J. Shiller • November 04, 2019
In an excerpt from his new book, Yale SOM's Robert Shiller examines how the stock market rise of the 1920s, the crash of 1929, and the Great Depression that followed came to be seen as a tale of recklessness and divine punishment—and how that narrative still shapes our understanding of the stock market.
Who's Your Leadership Role Model?
Heidi Brooks • November 14, 2019
We talked to Heidi Brooks, an expert on leadership and an avid tennis player, about what we can learn from the leadership styles of prominent public figures. She explained why we may benefit more from analyzing tennis players than presidential candidates.
How Machine Learning Can Find Extremists on Social Media
Tauhid Zaman • November 20, 2019
Extremist groups often use online social media networks to recruit members and spread propaganda. Tauhid Zaman, an associate professor of operations management at Yale SOM, and his colleagues recently investigated how artificial intelligence could assist efforts to detect and suspend such accounts—before the user posts any damaging content. The team's findings could help law enforcement agencies track ISIS supporters or white supremacists.
In Finance Field, Gender Disparities Are Significant—But Shrinking
Heather E. Tookes • December 06, 2019
Women hold just 16% of faculty positions in finance at top U.S. business schools, are less likely to be hired at the highest-ranked schools, and are paid less, according to a study co-authored by Yale SOM's Heather Tookes. The gap has been narrowing in recent years, Tookes says, but progress is slow. The study suggests that this may be due to limited collaborator networks.