In Finance Field, Gender Disparities Are Significant—But Shrinking
Women hold just 16% of faculty positions in finance at top U.S. business schools, are less likely to be hired at the highest-ranked schools, and are paid less, according to a study co-authored by Yale SOM's Heather Tookes. The gap has been narrowing in recent years, Tookes says, but progress is slow. The study suggests that this may be due to limited collaborator networks.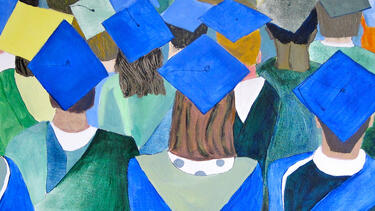 Illustration: Detail from "Graduates" by Judy Pokras
By Jyoti Madhusoodanan
Gender biases are pervasive in academia: across disciplines, women faculty members typically earn less than men, receive less funding, and take longer to gain tenure. Heather Tookes, a professor of finance at Yale SOM, says she has often fielded questions from women doctoral students about how these data—all gathered from non-finance disciplines—might reflect obstacles to their own academic careers.
Tookes didn't doubt the disparities existed within her discipline. But when she looked for data on the impact of gender on academic success in the field of finance, she found surprisingly little, positive or negative.
In a recent study, Tookes and Mila Getmansky Sherman of the Isenberg School of Management at UMass Amherst gathered data on finance faculty at the top 100 U.S. business schools to evaluate how an individual's gender correlated with their scholarly success. Looking at nearly a decade of data, they found that only 16% of finance faculty at these schools were women. Women faculty members were less likely to be tenured and tended to hold positions at lower-ranked schools; those at public institutions were paid approximately 4% less than their male counterparts.
"We observed a pretty significant gender imbalance in our profession," Tookes says. But they also observed a change taking place over the period covered by the data. "When we control for variables such as the number of publications or top publications, the gap in success that's explained by gender alone appears to be narrowing."
---
---
The team began their study by gleaning data on finance faculty from schools that appeared in the U.S. News & World Report top 100 rankings from 2009 to 2017. They examined rosters from Academic Analytics, a subscription-based database of faculty from U.S. universities, and used the publications database Scopus to gather a history of faculty members' publications and citations. They also filed Freedom of Information Act (FOIA) requests with 58 public institutions on their list in order to obtain salary records.
Then the team correlated measures of productivity, such as the number of publications a researcher had or the journals they published in, to their faculty status. In the raw data, they found that the average woman faculty member had fewer total publications than the average man, but the average woman is also newer to the profession.When the team standardized and compared individuals' performance, they found that—all else being equal—women were employed at schools ranked four spots lower on the U.S. News list than male faculty. "Even when we compared two people with the same number of publications and citations, the woman was more likely to be placed at a lower-tiered institution," Tookes says.
"Our most important finding is that women tend to coauthor with other women, and that's a constraint since there are so few in the profession."
But they also spotted another, slow-moving trend. More women entered the field—and obtained tenure—during the years studied. Of the faculty members who had tenure for the entire period from 2009 to 2017, only 9.5% were women. Yet nearly one-quarter of faculty who obtained tenure during that time were women, as were 20% of researchers hired into assistant professor roles immediately after their PhD studies.
"I think the data are encouraging," Tookes says. "I was happy to see this shrinking gap, so now I can look at the data and tell students that as of the end of our sample period, we're not seeing a clear gap in career outcomes—at least not one that can be attributed solely to gender."
However, Tookes adds, this vanishing divide is only seen when the authors control for research productivity—tracked using an individual's publications, quality of journals they publish in, or other metrics. Women continue to lag behind men on many of these measures. Moreover, women tend to publish within a smaller academic network—their co-authors are largely other women. "Our most important finding is that women tend to coauthor with other women, and that's a constraint since there are so few in the profession," she adds. "Expanding publication networks is one way we can make changes happen a little faster."
Closing the gender gap by widening professional networks or increasing opportunities for publication could accelerate the pace at which the field achieves gender equality. "These disparities persist despite the improvements so far," Tookes says. "As a field, we need to find continue to find ways to help women increase their publication networks."