The Art World in the Age of COVID
COVID created a crisis for the art world when museums, galleries, and art fairs were closed down. In an online discussion led by Prof. William Goetzmann, leaders in the field discussed the state of art institutions and the reasons for hope about the long term.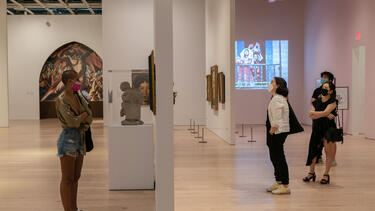 There's a moment of stillness and awe that comes in the presence of an extraordinary piece of art. It's a chance to breathe. A space for reflection. A pause when we're opened to a different perspective. If ever there was a year when we needed that, it is 2020. But 2020 has been a tough year for all in-person experiences. 
Like so much else, the infrastructure of art has been shaken by the COVID pandemic. Like other institutions, museums shut their doors to in-person visitors in March. Allowing virtual visitors free access to digital versions of their collections enabled a connection with a huge audience of art aficionados around the world, providing expanded reach—but not revenue.
Gail Harrity '82, president and COO of the Philadelphia Museum of Art, explained the situation in stark terms: "Our budget is roughly one third earned revenue, one third contributed funds, and one third endowment income." When the museum closed, "earned revenues evaporated overnight," donations effectively froze as funding organizations waited out the uncertainty, and the volatile markets have put endowment revenue at risk. "It's a challenging time."
Haritty's comments came as part of an online discussion on the current state—and uncertain future—of art institutions. William Goetzmann, the Edwin J. Beinecke Professor of Finance and Management Studies and director of the International Center for Finance, as well as an expert on art markets, served as moderator.
"Not having any shows over the course of an entire calendar year is not just an inconvenience; it's a wholesale sideswipe for our business model."
Joining Haritty as a panelist was Noah Horowitz, director of Americas for Art Basel; he underscored the business challenge presented by COVID. Art Basel's weeklong art fairs bring together hundreds of galleries and attract, on average, 80,000 visitors to see, and potentially buy, the work of thousands of artists. "Not having any shows over the course of an entire calendar year is not just an inconvenience; it's a wholesale sideswipe for our business model." Horowitz added that the fairs in Basel, Switzerland; Miami Beach, Florida; and Hong Kong draw an audience from everywhere. "We're not just an events business; we're a travel and entertainment business as well."
Despite the tremendous short-term challenges facing cultural institutions, both panelists expressed optimism about their power as economic engines. Horowitz noted, "The mayor of Miami Beach compared the economic impact of Art Basel to hosting the Super Bowl each year. It brings hundreds of millions of dollars into the local economy."
While municipalities are often eager to attract sport teams, Harrity said, "If you actually look at the numbers, it's the cultural institutions in our great cities that drive the economic impact in a far greater way. The economic impact of the of the Philadelphia Museum of Art over the last five years in Philadelphia is $1.5 billion."
Earlier in her career, Harrity noted, she helped establish the Guggenheim Bilbao, which still serves as a case study on the value of investing in cultural institutions. "It transformed the Basque region financially."
The pandemic is not the only pressing issue confronting the art world. Museums and other gatekeepers, Harrity said, are facing scrutiny about the narrowness of the artists they present. "People, very appropriately, are looking for more accountability and transparency from cultural institutions."
To respond, Harrity said, there is a need to expand the diversity of all the stakeholders in cultural production, including artists, critics, gallerists, curators, collectors, and audiences. The crisis created by COVID might allow for a deeper transformation, she added. "It's time to look for the silver lining of COVID. It's a time to reevaluate the old business models. It's time to embrace change."
Goetzmann noted that particularly since 1985, when a group of artists called the Guerrilla Girls challenged the gender inequality of the art world, there's been an ongoing effort to fight that imbalance. "In the last five to 10 years, the prices of the most widely recognized female artists have gone up and with them the frequency of major shows."
The systemic racism in the art world is being widely discussed now, but change isn't as far along, Goetzmann said. "Recognition of artists of color may not happen as fast as we want, but I think the trend is going in the right direction." 
The panelists saw the arrival of a period of change and experimentation on many levels. Haritty predicted a blending of in-person and digital formats; the mix of "bricks and clicks" is energizing a new sense of what is possible, she said.
Generational shifts are accelerating change, according to Horowitz. "Younger people are doing things that touch culture in different ways. The parameters are going to continue to change. I think there's going to be a continued blurring of boundaries between art, fashion, architecture, and design. All of it is for the greater good, but it's going to mean that institutions are going to have to adjust to that reality."
Watch the discussion:
Written by Ted O'Callahan.