Three Questions: Prof. Jeffrey Sonnenfeld on the Crisis at Facebook
Longstanding controversies over Facebook's role in the 2016 election and its approach to privacy exploded last weekend when it was revealed that the political data firm Cambridge Analytica had made use of private information from millions of Facebook users. With legislators demanding answers and users deleting the Facebook app, the company's top leaders have been silent. We asked Prof. Jeffrey Sonnenfeld how they should be responding to the scandal.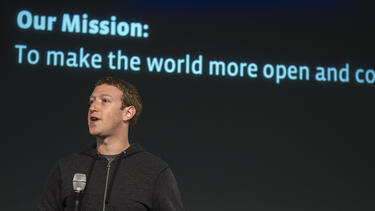 Is the situation with Facebook right now a failure of leadership?
We have heard from a number of tech giants about this issue—IBM CEO Ginni Rometty calling on tech companies to do a better job protecting user privacy, WhatsApp co-founder Brian Acton urging his 21,000 Twitter followers to delete Facebook, warnings from early Facebook investor Roger McNamee over Facebook's failed performance. But where is any word from Facebook's leaders? CEO Mark Zuckerberg and COO Sheryl Sandberg are hiding under their desks. Their most public actions are historically massive sales of their own shares of Facebook stock.
Similarly, they refused to go before the Senate this past November when requested. Instead they sheepishly sent their lawyers as apologists and deniers. Of course, at the same time, they eagerly and publicly bragged that their revenue had risen 47% to $10.3 billion in the third quarter from a year earlier, with profit surging 79% to $4.7 billion. In 2016, they dishonestly mocked questions about the role of fake news on Facebook in the election, months after their own internal chief information security officer had warned them about Russian interference. 
Where is Mark Zuckerberg? Back under the hoodie he hid behind during Facebook's disastrous 2012 IPO? For that matter, where is Sheryl Sandberg? She should practice the "leaning in" she promotes. Astoundingly, only now did they provide any explanation to their own employees—in a briefing where they cowardly sent only their deputy general counsel. Leaders should be available and accountable in time of crisis.
What actions should Mark Zuckerberg and the Facebook leadership team take now to restore Facebook's reputation and reassure its users and shareholders?
The leadership of Facebook is failing to face facts, preferring to live in a world of fiction. Zuckerberg and Sandberg should show accountability and public reassurance rather than venal self-interest and bureaucratic cowardice. Thus, first, they should stop their massive inside selling. Zuckerberg, for example, has been dumping so much stock that he helped to fuel a 14% plunge in shareholder value in just two days! He is selling his holdings at the rate of more than 200,000 shares a day. Sure, this is consistent with a pre-set schedule under SEC Rule 10 B-5, but such plans can be halted at any time, and should be at a time of distress and when a leader has important insider knowledge.
Second, Zuckerberg and Sandberg should acknowledge the problem and show both authentic contrition and a plan to prevent future such abuses. Experts widely agree that Facebook's systems and policies for accessing the social network's information treasure chest were far too lax. A Russian academic at Cambridge University was able to access the data of 270,000 people when they downloaded an app, to vacuum up their personal data as well as that of millions of their friends without permission or knowledge. This appears to have been in violation of 2011 Federal Trade Commission consent decrees against Facebook. As Marc Rotenberg, president of the Electronic Privacy Information Center, which has brought privacy cases before the FTC, said, "No one could have known that their friends were disclosing their personal data on their behalf. It's entirely illogical, and it breaks the consent law." 
This was a consequence of Zuckerberg's unwise 2007 invitation to build businesses around Facebook data while providing little oversight. When Facebook detected the abuse of this information, it warned the firm but never conducted a compliance audit. How will the company perform differently now?
Third, this is a time where the board needs to be more engaged. With legendary leaders from Netscape, American Express, PayPal, and Netflix, the board should not have deferred to an all-powerful Mark Zuckerberg, even if Zuckerberg did control 60% of the stock. The bosses of public companies must be accountable to someone. The titles of chairman and CEO should be split and term limits might be in order, as well as a credible succession plan. 
What's the broader lesson for CEOs of technology companies as they weather increasingly urgent questions about data privacy and the public trust? 
As famed tech VC and early Facebook investor Roger McNamee warned Zuckerberg and Sandberg, they are squandering their most precious resource: public trust. Like genetics researchers 20 years ago or nuclear scientists on the Manhattan project, many engineers in Silicon Valley naively and arrogantly deny any responsibility for the use of their inventions as they expand the frontiers of knowledge. 
Technology is never neutral. To a society that has never had knives, that tool comes with both the value of cutting up their food and the dangers of cutting up each other. Robert Oppenheimer, the father of the atomic bomb, reminded us 70 years ago that scientists "have known sin"; like Dr. Frankenstein, he was a creator who lost control over his creation. This is Facebook's Frankenstein monster.