Three Questions: Prof. Jeffrey Sonnenfeld on Lee Iacocca's Legacy
Auto industry titan Lee Iacocca is dead at 94 after a career notable for such innovations as the minivan, Mustang, and Pinto, as well as an outsize persona. We asked Prof. Jeffrey Sonnenfeld to explain Iacocca's success through both breakthroughs and setbacks in his career.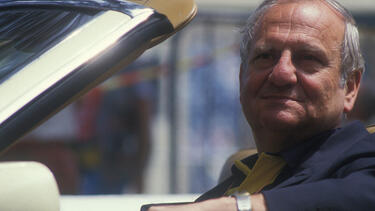 What do you think drove Lee Iacocca?
Lee Iacocca was a hugely competitive executive—driven by commercial success and patriotic pride. As the son of an enterprising Italian immigrant hot dog vendor who lost a vast real estate empire in the Depression, Iacocca was intensely proud of his ethnic roots and his American identity, as well as his confidence to achieve against the odds. His reinvention of lifestyle design at Ford and Chrysler and revival of Chrysler were legendary. He celebrated the comeback of Chrysler with ads proclaiming "The Pride is Back!" 
 
Similarly, he led the massive restoration projects of the Statue of Liberty and Ellis Island—badly in need of attention—to herald the diversity of the tapestry of American life and its immigrant heritages. He also created the Ellis Island Foundation—with an annual award (I won one last year) to fortify these bedrock American values.
 
His model of leadership and personal branding transcended industry and included politics. He was a very serious, much-discussed contender for the U.S. presidency in 1988. In fact, his career-long adversary—the late Douglas Fraser, then president of the United Auto Workers—told me that even he "would support Lee Iacocca for the U.S. presidency, except no U.S. business leader who never held elective office could ever win as U.S. president!" Seriously—he actually told me that in 1987.
 
What was his most lasting impact on the auto industry?
Iacocca consistently embraced shifting American lifestyles, creative design, and imaginative marketing for the U.S. auto industry and industry in general. He developed brilliant marketing campaigns such as his "56 for 56" campaign, with a novel financing approach to selling 1956 model Ford cars. He, of course, created the hugely popular Mustang—which, while initially on a Ford Falcon chassis, became a symbol of fun, liberation, and a new generation. Later at Chrysler, the introduction of the flexible expansive, accessible minivan celebrated the transport needs for the adventures of American family life in ways that left the old, rigid station wagons in the dust. And then there was the infamous Pinto subcompact.
Beyond headline-making products, however, he helped American industry awaken—admittedly in a tardy way—to the competitive threats of trading partner nations such as Japan and Germany. For a nation that scoffed at the countries they had defeated in battle in World War II, those countries' spirit of innovation, focus on cutting-edge engineering, and new efficiencies caught the big metal mindset of Detroit by surprise. Iacocca was a champion of the American manufacturer.
Far more important than his career and special style of self-promotion was his model of resilience amid adversity
What lessons should today's corporate leaders draw from his career?
He was the standard-bearer of strength and resilience—so much so that he became a yardstick when leaders were referred to as being "the Lee Iacocca of their industry." Iacocca was an American original, one of the first modern celebrity CEOs. His career showed a fusion of identities between his own leadership style and businesses he led, thus introducing the boss as brand. Long before Jack Welch, Donald Trump, Steve Jobs, John Scully, Sam Walton, Phil Knight, Carlos Ghosn, Howard Schultz, and others authored their gauzy but inspiring autobiographies (as well as being profiled in piles of puffy hagiographies), Lee Iacocca promoted the triumphs and mythmaking of his career that harkened back to the days of the tycoons of the turn of that century—such as Thomas Edison, Henry Ford, and Andrew Carnegie.
Iacocca was not a quitter; he was a very tough fighter. Thus, far more important than his career and special style of self-promotion was his model of resilience amid adversity. Having grown up in a family of uncertain financial stability, overcoming ethnic taunts, and suffering from ill health that derailed athletic pursuits in his college years, he became a great student and a transformational industrial titan. In 1968, he helped undermine threats to his own ambitious career path, such as the advent of Semon E. "Bunkie" Knudson, who Henry Ford II brought over from GM to be a possible heir apparent. Iacocca engineered Knudson's ouster, threatening a mass exodus of Ford insiders to Chris Craft Industries. As head of North American Automotive in Ford, however, he dramatically underperformed against Vice Chairman Phillip Caldwell, head of international operations—leading to his own ouster. Undaunted, Iacocca hopped over to the ailing Chrysler, reviving a great American icon as well as his own legendary career.