Three Questions: Prof. David Bach on Doing Business with Saudi Arabia
After the recent disappearance and likely murder of the Saudi Arabian journalist Jamal Khashoggi in the Saudi consulate in Istanbul, a string of business and media leaders have pulled out of an upcoming conference in the country. But others have chosen to stay in. Professor David Bach answers questions about how businesses should weigh the risks and reputational costs in their response to this moment of crisis.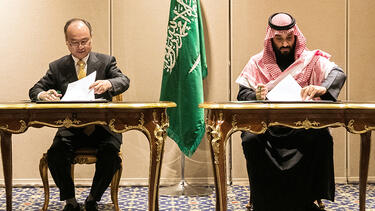 Many prominent business leaders have denounced Saudi Arabia and canceled their participation in the country's upcoming Future Investment Initiative conference, dubbed "Davos in the Desert," over the suspected murder of Jamal Khashoggi. Why has this incident sparked such a strong reaction? Does it point to an underlying shift in Western business leaders' attitude toward the kingdom?
The Khashoggi affair has all the ingredients for a media frenzy: a well-known victim with close ties to Western journalists, the uncertainty and intrigue of his whereabouts, the possibility and increasing likelihood of a gruesome death, rumors that audio and video recordings might exist, reports of a 15-person Saudi security team that flew in on two private jets, the geopolitical dimension of Turkish-Saudi rivalry, the image of a grieving fiancée, and of course the purported villain mastermind in the form of Mohammed bin Salman, who has held Western media spellbound since his surprise ascendance to power. 
Doing business with Saudi Arabia has always been fraught with difficult trade-offs for many Western firms. On the one hand, you have one of the richest countries in the world, which heavily relies on foreign goods, know-how, technology, and workers. On the other hand, for decades, it has been one of the world's most oppressive regimes, denying fundamental rights and freedoms to large parts of the population. For a brief moment, it seemed that Mohammed bin Salman's surprise emergence as the kingdom's de facto ruler would lead to progress on both fronts. Committed to diversifying the economy, combating corruption, and courting foreign investment, MBS, as he is known, also initiated a series of domestic reforms, including allowing women to drive and reducing the role of the notorious religious police. The Future Investment Initiative was supposed to be the symbol of this new, modernizing Saudi Arabia. But the entire time, there has been a counter-narrative featuring the country's bloody intervention in Yemen, its efforts to destabilize neighboring Qatar, and reports of a large number of detained dissidents and human rights activists. Those who wanted to see the young crown prince as a reformer did their best to ignore this counter-narrative. Khashoggi, and the media frenzy surrounding his disappearance, has made that impossible. It is therefore no surprise that business leaders such as Richard Branson, Steve Case, Dara Khosrowshahi, and many more have canceled their participation in the Future Investment Initiative, and that Western media outlets such as the New York Times, Financial Times, CNBC, and CNN have withdrawn their support.
Whether this will lead to a more sustained shift remains to be seen and depends on whether Khashoggi's murder is confirmed, if a narrative blaming MBS takes hold, and how the U.S. government and other leading countries respond. If the current picture hardens, the reputational costs of engaging with the kingdom may well exceed any economic benefits.
If the current picture hardens, the reputational costs of engaging with the kingdom may well exceed any economic benefits.
How should business leaders assess whether to respond to an incident like this?
CEOs are facing a dual challenge: (i) a growing expectation to weigh in on key political developments and (ii) to do so very quickly. The latter in particular is driven by the rise of social media and constant news coverage, but also the sense that a quick response conveys authenticity. In contrast, critics frequently interpret silence or inaction as acquiescence or complicity. In this case, the fact that the Future Investment Initiative conference is around the corner forced CEOs' hand: cancel participation to signal condemnation or risk being accused of complicity by attending. And once the first prominent CEO or journalist cancels, the pressure on others grows even further. Pulling out is pragmatic. The more difficult question is: What's next? Should Western business leaders scale back their engagement in Saudi Arabia even if the White House takes no additional steps? The answer will likely vary across firms as each carefully weighs the key stakeholders to consider, their views, and the implications for the business.
What are the risks of doing business in a country where business is intertwined with government at every level?
Chinese real estate tycoon and billionaire Wang Jianlin once told Reuters that it was his motto to "remain close to government, and away from politics." While few have said it as succinctly as Wang, his formula has been the prevailing approach for many CEOs with significant assets in countries where business and government are closely intertwined. Maintaining the split—being politically connected yet remaining apolitical—is getting harder and harder, however. Business is scrutinized as never before, and mere association with powerful leaders is frequently seen as endorsing their behavior. This is as true in the U.S.—think of CEOs abandoning President Trump's business advisory councils after his shameful Charlottesville remarks—as much as it is overseas. To successfully navigate this challenging terrain, a business must be clear about its own politics: what are our values, what do we stand for, what compromises can we accept, and what crosses the line? And business leaders must clearly communicate and live these values to have credibility across key stakeholders when engaging with governments. In our current hyper-political environment, being apolitical—not taking a stand—just won't do.