Study Shows Bias Against Investment Recommendations from Women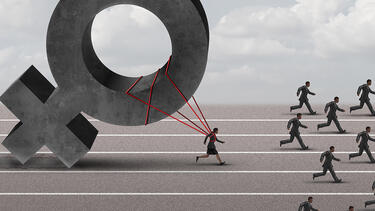 This article originally appeared in YaleNews and is republished with permission.
Women in the investment profession face a double standard even when objective information on their performance is available and their evaluators are incentivized to not discriminate, according to a new study by researchers at the Yale School of Management and the Columbia Business School.
Previous research has established that women tend to be held to unfairly high standards compared to men of similar ability and must outperform their male colleagues to receive equal recognition.
This study, published in Administrative Science Quarterly, moves a step further by showing that the double standard persists in an environment such as buy-side investment professionals seeking the best investment opportunities, where peer evaluators have incentives to ignore gender preferences.
"We found that financial professionals are more likely to pay attention to investment recommendations when they think that the person offering the recommendation is a man," said Tristan Botelho, assistant professor of organizational behavior at the Yale School of Management and co-author of the study. "It shows that gender bias even exists in an industry, in this case the financial market, where individuals and firms are extremely performance-minded."
Botelho and co-author Mabel Abraham, assistant professor of management at the Columbia Business School, collected data from a private online platform where investment professionals share recommendations to buy or sell a given stock. They examined 3,520 recommendations by 1,550 individuals from 2008 through 2013. The platform does not explicitly identify recommenders by gender, but one could infer from first names whether a recommender was likely to be a man or a woman.
The web platform provided a two-stage evaluation process. In the first stage, users click on recommendations they are interested in learning more about. In the second, they evaluate the recommendation, rating it on a five-point scale and leaving comments.
The researchers found that recommendations submitted by people with typically feminine names, like Mary, received 25% fewer clicks than those submitted by individuals with male-sounding names, like Matthew. Recommendations from investment professionals with feminine names had to be high performing to garner the same number of clicks as an average performing recommendation from somebody with a masculine name.
The study also showed that self-disclosed men in their sample who had feminine-sounding names received fewer clicks than individuals with traditional male names.
Women were not penalized in the second phase of the evaluation process, as the researchers saw no difference between genders in the ratings or number of comments a recommendation attracted, according to the study.
"Gender bias was reduced only when the evaluators had access to more pertinent information related to the evaluation at hand," Botelho said. "These findings suggest that it may be beneficial for underrepresented groups to provide as much performance-based information as they can during an evaluation process, such as applying for a new job."
Organizations can also help by removing gender identifying information where possible as well as minimizing the sources of uncertainty in their evaluation processes, such as decreasing the number of applications any one hiring manager reviews, Botelho said.