Some of the Biggest Brands Are Leaving Russia. Others Just Can't Quit Putin.
Since the invasion of Ukraine, Prof. Jeffrey Sonnenfeld and his team have been tracking which companies have withdrawn from Russia, which are making partial moves, and which are staying put. Sonnenfeld and Steven Tian say that their goal is simple: "Every corporation with a presence in Russia must publicly commit to a total cessation of business there."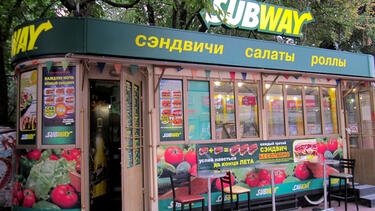 This commentary was originally published in the New York Times.
In the latter half of the 1980s, roughly 200 American companies withdrew from South Africa, partly in protest against its apartheid system. As businesses fled the country, South Africa's segregationist president, P.W. Botha, came under increasing economic pressure. The corporate exodus contributed to the end of apartheid, and was a remarkable display of the power that companies have. When they're courageous enough to use that power for good, it can help topple repressive governments.
Over the past six weeks, we've witnessed a similarly extensive response from the private sector to Russia's war in Ukraine. Hundreds of American companies have announced that they are voluntarily curtailing or halting their business in Russia, according to according to data compiled by our team of 24 researchers at the Yale School of Management. While it's impossible to say whether all of these companies are motivated by purely moral concerns, they've all gone above and beyond what is legally required by international sanctions.
It's still too early to tell whether their moves will help to force Russia to end the war. But sanctions from Ukraine's allies have already shaken Russia's economy. The country's stock market is on an IV drip, and the Kremlin has imposed strict controls to prop up the value of the ruble.
Companies have a role to play in keeping the economic pressure on President Vladimir Putin. To that end, our team has placed businesses in one of five categories based on their response to the war. Consumers should know whether the companies that make their food, clothes and goods are fully committed to ending Mr. Putin's atrocities.
Our goal is absolute, and some might even say extreme: Every corporation with a presence in Russia must publicly commit to a total cessation of business there. Russians who rely on the food or medicine those companies make or jobs they provide may suffer hardship. But if that's what it takes to stop Mr. Putin from killing innocent Ukrainians, that's what businesses must do.
We realize that some companies already do business with many other repressive and murderous regimes around the world. But now there's a chance to draw a line with one country, over one unprovoked war of aggression, and make a difference. Here are some of the biggest brands that are leaving Russia, along with companies that are staying put and supporting Mr. Putin with their imports, exports, and taxes.
At least 253 companies are making a clean break from Russia, leaving behind essentially no operational footprint.
BP, Exxon, and Shell have said they are divesting billions of dollars in Russian energy assets. Bernard Looney, the chief executive of BP, explained that the invasion had caused BP to fundamentally rethink its position in Russia. "I am convinced that the decisions we have taken as a board are not only the right thing to do, but also in the long-term interests of BP," he said.
The tool and household product manufacturer Stanley Black & Decker also ended its operations in Russia, potentially forgoing millions of dollars in profit. According to the company's estimates, its Russian operations made about $150 million in revenue a year.
At least 248 companies have suspended all or almost all of their corporate operations in Russia without permanently exiting or divesting.
In many cases, these companies have ceased doing business in Russia but are continuing to pay their Russian employees, thereby leaving the door open to returning. Adidas, Disney, IBM, and Nike all fall into this category.
At least 75 companies have suspended a significant portion of their business in Russia.
PepsiCo, for example, has halted work across all of its sodas in the country, including Pepsi-Cola, 7Up, and Mirinda, but not in its dairy products. JPMorgan and Goldman Sachs also fall into this category. Both have said they are winding down their operations in the region. The companies haven't totally divested, however: They are still reportedly continuing to snatch up depressed Russian securities for pennies on the dollar.
At least 96 companies have publicly announced that they are pausing new investments in Russia but are largely continuing to operate in the country as they did before.
Many of these companies have explained their decision by saying that they provide "essentials" to Russian people. What, exactly, the companies count as an "essential" good is murky. Mondelez International, which owns Nabisco and other snack manufacturers, has promised to scale back all "nonessential" activity while "helping maintain continuity of the food supply." We're pretty sure that Russians can live without the company's chewing gum and chocolates until Mr. Putin decides to stop killing Ukrainians.
At least 162 companies have not announced substantial voluntary changes to either their operations or their investments in the country.
Some of these companies have donated to international humanitarian organizations or announced vague re-evaluations of operations in Russia but have not taken any concrete measures to suspend or reduce their business there, beyond the bare minimum legally required by international sanctions. Others haven't addressed the war at all.
Koch Industries—which makes products including Brawny paper towels, Quilted Northern and Angel Soft toilet paper, and Dixie cups—employs about 600 people across two manufacturing plants in Russia. The company has condemned Russia's invasion and the subsidiary that runs the plants has halted new investments in Russia. But it refuses to close its manufacturing plants, suggesting that if it did, Russia would nationalize the facilities. That may be true. But it's a risk that hundreds of other companies have taken in deciding to pull out of Russia, and it's one that a multibillion-dollar company like Koch can afford to take as well.
The response from International Paper has been even more timid. Since we published our data, International Paper has told us that it is reviewing its 50% stake in Ilim Group, a Russian forest products company. But as of April 1, International Paper had yet to actually divest from Ilim Group.
Hundreds of companies are forfeiting profits in order to hamper Russia's war machine. Their divestment will slow the country's growth for years to come. Even if the war ends tomorrow, business leaders will think twice before investing in a country with such a capricious leader.
Yet many Western businesses refuse to quit a country whose soldiers are apparently executing Ukrainian civilians. Fortunately, Americans who are sickened by businesses' indifference to the bloodshed can make their voices heard: If the companies won't boycott Russia, boycott the companies.