Remembering Oz Nelson, Who Reinvented UPS
In the 1990s, Nelson modernized the shipping company and gave it a new focus on the customer. Yale SOM's Jeffrey Sonnenfeld remembers the former CEO, who died on April 6.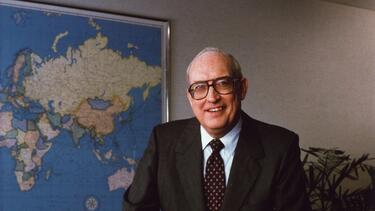 This commentary originally appeared in Fortune.
Oswald (Ozzie) Nelson of New Jersey, a Rutgers lawyer, was best known for his creation of the humorous weekly ABC drama The Adventures of Ozzie & Harriet with his real family in the 1950s and mid-1960s. Ozzie Nelson's character was a warm, loving dad with a ready smile and a calming, problem-solving wisdom. (Off screen, however, Nelson has been characterized as autocratic, controlling, tough on his family, and driven by financial gain.)
The demeanor of the business visionary Kent Nelson so matched the image of his TV namesake that "Oz" became his childhood nickname and stayed with him until his passing at age 85. No one who knew Oz Nelson can recall an image of him without his genuine calming smile and eagerness to puzzle out problems. Never did he revert to ad hominem attacks, personal finger-pointing, or drawing lines of battle with colleagues, rivals, regulators, or neighbors.
This week, Atlanta respectfully bid Oz Nelson a final farewell and saluted his 30 years of generous devotion to the community, not to mention his technological reinvention of logistics giant UPS as CEO and his relocation of the company to Atlanta. I knew that Oz Nelson and was fortunate to have been in close contact with him for 36 years.
The real-life Oz Nelson was a model of warmth, creativity, and ambition with humility—and was as genuine on and off the screen. That congeniality did disguise a paradoxical character trait: Oz Nelson was an industrial pioneer and a social revolutionary in a business suit. His path to management violated the UPS norms of the time of working for years as a delivery driver. He started out as an hourly employee, a "clerk" in evolving secondary sales and service roles. Rather than see this service role as secondary, he elevated that track to transform UPS into a customer-oriented business rather than strictly a highly efficient operations-driven company.
Nelson launched the company's celebrated satirical ad campaign that made fun of the competition with the irreverent Amratti & Puris agency. Privately, he acknowledged the technological edge (at the time) of competitors Federal Express, Airborne, TNT, and Emery Airfreight. He pioneered the development of handheld scanning devices for tracking packages and putting dense codes on package address labels to allow better tracing, automated sorting, operational efficiency metrics, and customer research. In fact, under Oz Nelson, the term "customer" was introduced to the industry. Before him, the term was "shippers"–and recipients were called "consignees."
When I first met Oz in 1986, I was a 32-year-old, seventh-year professor at the Harvard Business School. I was in a hurry to get somewhere with my career but was pretty sure it was not to be a delivery driver in an 80-year-old trucking company. However, Goldman Sachs' revered John Whitehead had just bestowed HBS with a new fellowship for a young scholar to embed in a company that's on the edge of transformation but that was not saturated by MBAs. In fact, the only MBA in this huge transportation company was working in the two-person marketing department. The company was basically a U.S. domestic ground package delivery business.
That soon changed. Nelson built up one of the world's five largest airlines from scratch within three years. He soared ahead of the competition to become a leader in technology and to tower over all transportation companies in Fortune's highly competitive corporate reputation surveys. Despite the skepticism of my academy colleagues, he and his vice chair, Don Layden, worked seamlessly on the international front to expand from their toe holds in Canada and Germany and to become a direct service provider to more nations than the UN even represented through a mix of careful acquisitions and internally driven global expansions.
Their headquarters catapulted from a non-descript linoleum floored low-rise brick Greenwich office building to an award-winning complex by architect Tom Ventulett. Internally lit through soaring views and huge sheets of glass, the still low-key office building Oz commissioned spans a stream running through it, in a forest on the edge of Atlanta. With two full-time arborists, there were more trees on the property after UPS built than before. Many Atlantans joked that "these Yankee carpet baggers" cared more about the Georgian landscape than the old timers did.
In 1990, UPS employed 245,000 workers and delivered 2.9 billion packages yearly with, revenues of $13.6 billion. By 2022, UPS revenues were over $100 billion, with 500,000 employees, and serving customers in more than 220 countries.
In a tribute to Oz's role in getting UPS that far through new technologies and logistics businesses, current UPS CEO Carol Tome, a pioneer herself, said: "We also remember Oz for leading with his heart. He was deeply committed to people—UPSers and customers around the globe—and the communities where we live and serve, driving the company's philanthropic and volunteer efforts to new heights. Oz served in leadership roles for numerous nonprofits, including the CDC, the Carter Center, United Way of America, and the Annie E. Casey Foundation, and he made significant contributions to education reform in Kentucky."
Always open to new approaches, Nelson even privately conferred with this top management team over changing the UPS colors from gold letters on the "pullman brown" base to something he considered less drab. His colleagues forcefully resisted—and he listened. He listened equally to colleagues, customers, communities, and even competitors. I watched Oz chide a new hire for making a joke about a competitor's misstep—and saying everyone learns from bold initiatives.
Accordingly, he listened to internal dissent on sensitive global strategy. In the early days of their global expansion, he was the advocate for purchasing a large global competitor. With the contracts about to be inked between the five-member team of the target company and 40 UPS purchasers, some UPSers discovered some irregularities in the business conduct of the target company that had not been detected by the consultants and attorneys. With no trace of defensiveness, Oz did not hesitate to reverse course—and killed the deal at the 11th hour.
On political and societal issues, as a lifetime Republican, he championed diversity, professional conduct, and generous benefits within the company. Externally, he championed economic development for communities in need, workforce training, and trade reform (with seamless relations across the Carter, Reagan, Bush, and Clinton administrations). He even served as the long-term chair of the Carter Center and the CDC Foundation. He had no fear of being called "woke" for doing the right thing. He advised me on the gathering of groups of prominent CEOs who met spontaneously in 2020 and 2021 to provide their civic voices of stewardship and patriotism through the needlessly rocky presidential transition and voting rights battles.
One of Oz's predecessors, reflecting on the consensual decision-making culture at UPS and the consistent reliability of execution, described it as "a cross between a Quaker meeting and the U.S. Marine Corps." Oz is a reminder that even in a team-oriented humble culture, the initiative of individual leaders still matters.
The real Oz Nelson knew how to be tough and persuasive instead of tough and autocratic. As I witnessed myself, when he saw an injustice, he spoke out and led others into righteous battles for truth. At a time of coarsening of public discourse, Oz worked across sectors to show that courage does not require cruelty. He cut his own path—without torching the forest.