Office Romance Policies Aren't Working
Jeff Zucker resigned as president of CNN last week, not because of his romance with a colleague but because of his failure to disclose that relationship. Yale SOM leadership expert Jeffrey Sonnenfeld and author Joanne Lipman write that the episode illustrates the inconsistency and ambiguity of corporate policies on workplace relationships.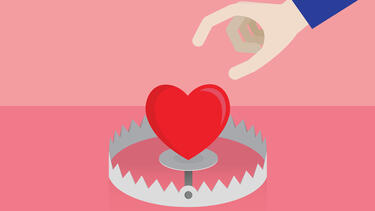 By Joanne Lipman and Jeffrey A. Sonnenfeld for The New York Times.
The headlines about the resignation of CNN's president, Jeff Zucker, over his romantic relationship with a colleague are electrifying CNN's defenders and antagonists alike and fueling endless speculation about possible corporate power plays behind the scenes. For those, like us, who have been writing for years about men, women and the workplace, this unfolding scandal also points out how difficult it is to regulate office romance and how unevenly corporate policies around consensual relationships are enforced.
Mr. Zucker's relationship with Allison Gollust, CNN's head of marketing, was, by many accounts, an open secret in the media world. It was also an explosive secret. Under WarnerMedia's ownership of CNN, Ms. Gollust reported to Mr. Zucker in her marketing role but not as head of communications. As Mr. Zucker acknowledged in a memo to his colleagues, "I was required to disclose it when it began but I didn't."
What's so baffling is, why not disclose it? Both are divorced, and the relationship is consensual. Had they been transparent, it's possible that Mr. Zucker, CNN, and its parent company could have dealt with this without precipitating a crisis. What's more, if rumors were swirling internally that Mr. Zucker and Ms. Gollust were violating company policy, why didn't the bosses at WarnerMedia investigate earlier? This is an unforced error by CNN, causing confusion and anger among some staff members.
There is some speculation that Mr. Zucker's office-romance resignation is simply a cover story to allow the company to get rid of him before WarnerMedia's planned merger with Discovery this year. CNN is facing likely litigation surrounding its firing of Chris Cuomo for aiding his brother, the embattled former New York governor. Meanwhile, John Malone, the chair of a company that owns a major stake in Discovery, has publicly criticized CNN's programming under Mr. Zucker's leadership.
Whatever the boardroom drama, this is yet another chapter in the tortured history of companies' bungled attempts at dealing with office romance. The rules are all over the place. Enforcement is inconsistent. This is an issue not just for chief executives. A 2021 survey for the Society for Human Resource Management found that more than a third of Americans have had or currently have a workplace relationship, and the majority of them did not disclose it to their superiors. Offices romances have turned into enduring partnerships for prominent figures, from Michelle and Barack Obama to Tina Brown and Harry Evans and, on a less happy note, Bill Gates and Melinda French Gates.
Yet companies still haven't figured out how to navigate these waters. The #MeToo movement shined a light on the egregious cases of male bosses preying on subordinate women, leading to the firings or resignations of dozens of prominent men. Other men in power have been forced out for consensual relationships that they concealed, including the former McDonald's chief executive Steve Easterbrook in 2019 and the former Intel chief executive Brian Krzanich in 2018.
There is no consensus in corporate America, however, about what is considered acceptable. Companies' stated rules are all over the map. Some employers, such as UPS, have traditionally had extremely strict policies, firing any managers who engage with any lower-level employees, even if they are not direct reports. Not so elsewhere. The publishing company Scholastic, for example, was apparently much more lenient. Its former chairman and chief executive M. Richard Robinson Jr. created a confused succession process when, to the surprise of his board, he anointed a Scholastic executive with whom he had reportedly had a romantic relationship as board chair, leaving her a controlling stake in the company.
Years ago, companies dealt with these kinds of conflicts by firing the junior person, who was almost always the woman. Mary Cunningham famously lost her job at Bendix in 1980 after rumors circulated that she was having an affair with her boss William Agee. (They denied it and got married after she left the company; he got to keep his job.) In 1975, IBM's vice president of communications and government relations, Jane Cahill, left the company immediately after marrying Ralph A. Pfeiffer, a senior vice president at the company. In a blog post after her 2019 death, IBM noted that Ms. Cahill Pfeiffer believed that "two top managers being married and working for the same company created potential conflicts of interest."
Most companies still don't allow relationships between a supervisor and a direct report. But that is just a baseline for a reasonable policy. Seeing the fallout at CNN, the leaders of every company in America, even those that are not so squarely in the public eye, should be thinking hard about their own office romance policies: How clear are they? And how consistently are they enforced?
There are a couple of reasons that policies aren't working right now. First, many business leaders, who remain overwhelmingly male, still don't seem to believe that the rules apply to them. Many of them may have grown up in an era when sexual harassment was overlooked or tacitly encouraged—or wish that they did—but they should no longer believe this will protect them from norms of the 21st-century workplace.
The beginning of any relationship is tenuous and sometimes awkward. If employees aren't even ready to tell their friends about it, can they really be expected to know exactly when to tell their superiors?
Second, and perhaps more of an issue for the ordinary employee, is that the cadence of romance doesn't match the cadence of work. A full-on relationship should, of course, be disclosed. But it's not always clear where that line is drawn. The beginning of any relationship is tenuous and sometimes awkward. If employees aren't even ready to tell their friends about it, can they really be expected to know exactly when to tell their superiors? Is one date with a peer the threshold? Or one particularly flirtatious email exchange? If one or both people are still married and haven't told their spouses, do they really have to tell their bosses first?
These are the kinds of questions emerging every day, right now, probably in your own organization. A 2019 Vault.com survey found that 41% of employees aren't even sure what their company's position on workplace romance is. Companies owe their employees this clarity. Organizations need to specify what constitutes a relationship, to whom and when to report it, and in what circumstances it requires an adjustment in position for one or both people. Some companies now even have consensual relationship agreements.
At the same time, organizations need to realize that consensual relationships between peers exist and not reflexively demonize them. Employees sometimes don't report an office romance because they're afraid they'll be penalized, even if that's not the case. Or they cringe at the thought of announcing it to colleagues, when they may be required to disclose it only to a supervisor or human resources representative. Companies need equally specific anti-harassment policies, with definitions and consequences.
What's more, the rules need to apply to everyone. This may seem like common sense, but in too many cases, companies look the other way for high performers or senior management. High-profile scandals garner the headlines, but less visible pairings are far more common. Office romances have existed ever since offices were invented. It's about time offices figured out how to deal with them.