In Post-Khashoggi Saudi Arabia, Business Leaders Have a Chance to Fill a Moral Void
With the U.S. government slow to respond to the death of journalist Jamal Khashoggi, business leaders took the lead by pulling out of Saudi Arabia's investor conference. Yale SOM's Jeffrey Sonnenfeld and journalist Roya Hakakian write that continued business activism can help bring about positive change in the Middle East.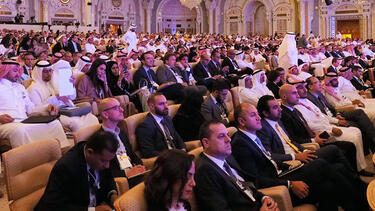 This article originally appeared on Reuters.
As the Trump White House entertains Riyadh's dubious explanation for the death of Washington Post journalist Jamal Khashoggi, who was killed at the Saudi consulate in Istanbul on October 2, the global business community is filling a vital moral void. Dozens of Western executives have cancelled their attendance at the investor conference nicknamed "Davos in the Desert," which began Tuesday in Riyadh.
The devastating tale of Khashoggi's murder has an uncanny precursor in the region, one in which business exerted its influence, to great effect. In 1996, Faraj Sarkohi, then the editor-in-chief of Adineh, the Iranian equivalent of the New Yorker magazine, also went missing. He had, according to the customs records from Tehran's airport, flown out of the country, but never landed in Frankfurt, Germany, where his family was awaiting him. Sarkohi's disappearance gave a new meaning to the expression "vanishing into the thin air," as Tehran emphatically denied any foul play. After 48 days of severe torture in captivity, Sarkohi magically materialized in Iran and appeared before a dumbfounded press.
Although German government officials, Amnesty International, Reporters without Borders, and PEN International had already pressed Tehran with letters on behalf of Sarkohi, in the end, it was the potential loss of business that may have delivered the ultimate blow to the agents from Iran's intelligence ministry to set him free. Sarkohi recalls in his memoir that since Tehran claimed he had left the country, and Germany had no record of him arriving, an international aviation body threatened to deem Iran's airline too unreliable for insurance if he was not shown to be alive. This action would have brought the national carrier to a standstill, dealing a major blow to the Iranian economy.
Corporate protests would not have saved Khashoggi, who was dead shortly after entering the Saudi consulate in Istanbul. But recent high-profile controversies in the United States have shown how business activism can make a difference in shaping the agenda on divisive political and social issues.
For example, in the absence of a strong White House response to the deadly white nationalist rally in Charlottesville, Virginia, last summer, the nation's top executives, led by the CEOs of Merck, Disney, HP, and Unilever, stepped in, flagging their concern by pulling out of Trump's three business advisory councils, which culminated in the dissolution of those entities. This may be one of the first times in U.S. history that business leaders collectively rejected a call to national service by the White House.
In 2017 firms like AT&T, Apple, and Starbucks helped spark the repeal of the infamous "bathroom bills" trying to restrict transgender people's access to restrooms in a number of states. And in the national trauma that followed the Parkland, Florida, mass shooting last spring, companies such as Dick's Sporting Goods, Kroger, and Wal-Mart announced that they would no longer sell firearms and ammunition to buyers under 21, among other restrictions on gun sales.
Now in the killing of a dissident by an ally, the moral voice of business is again sounding an alarm when the U.S. government has failed to act. Ironically, the White House's reluctance to condemn the treatment of Khashoggi is attributed to the potential loss of $110 billion arms deal with Saudi Arabia—even though it's no secret in the U.S. business community that only about 10% of the deal is in contract, with the rest addressed in a non-binding memorandum of understanding. In fact, the United States does more annual trading with Switzerland than with Saudi Arabia.
Khashoggi's death occurred in a particularly fraught and complex region. The journalist's fate underlines, among other truths, the grave dangers dissidents in the region face. It also makes clear that when it comes to the two archrivals in the Middle East, Iran and Saudi Arabia, the difference is not between good and evil, but between two pernicious forms of evil. Both claim to be the catalysts of women's equality, while the leading feminists of their nations languish in captivity. Both claim to be the vanguards of a just Islamic society and yet they imprison, torture, and murder their dissidents. While Khashoggi's death has rightfully fixated our attentions, it has done so most notably because it raises questions about Washington's close alliance with Riyadh. However, the absence of any U.S.-Iran relations has sadly meant far less scrutiny or reporting on the stories of the many Iranian Khashoggis.
"In the Middle East, businesses can align with the regional forces of good, such as human rights and women's rights activists, to help pave the way for democratic change."
Reform has been little more than political window dressing in either country. It has been, for the most part, a way to bait the West into bringing business investments into their countries. It's no surprise that the Saudi-Iran battle for supremacy has been at a stalemate. They are, in essence, too similar to distinguish themselves for either their populace or the international community. In the end, they make unreliable allies. They may buy American weapons or sell their oil to the world, but their lawlessness will sooner or later cost the United States much more in collateral damage, because it is in the uncivil and arrogant nature of violence to defy containment and spread.
Business leaders may not express it quite like that, but they have responded spontaneously to Khashoggi's death, with top executives such as those from JP Morgan, Blackstone, the New York Times, CNN, CNBC, Uber, and Goldman Sachs spontaneously deciding to withdraw from this week's Saudi government economic showcase, followed by the reluctant withdrawal of U.S. Treasury Secretary Mnuchin and the IMF's Christine Lagarde. (Mnuchin did go to Riyadh, where he met with Saudi Crown Prince Mohammed bin Salman on Monday, but did not attend the main investment conference.)
"Contagion of conscience"—or collective moral outrage—generally develops in three waves. The first comes from leaders, who are driven by their ethics. The second comes from people who respond to pressure from their constituents. The third wave comes from a group that joins the first two when it feels a shifting tide and is afraid of being on the wrong side of history. Regardless of why business leaders take a stand, however, their recent collective action has been changing history. In the Middle East, too, businesses can align with the regional forces of good, such as human rights and women's rights activists, to help pave the way for democratic change.