How Disney's Bob Iger Outmaneuvered Ron DeSantis
Yale SOM's Jeffrey Sonnenfeld writes that Iger offered a master class in standing up to bullies when he undercut the Florida governor's attempt to impose new oversight on Walt Disney World.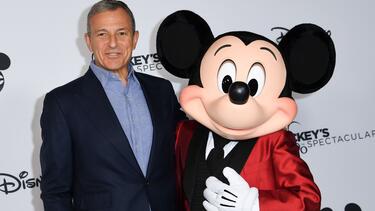 This commentary was originally published in Time.
The Florida troika of cronies Governor Ron DeSantis, activist Nelson Peltz, and former Marvel chairman Ike Perlmutter have met their match in Disney's CEO Bob Iger. In a shot heard around the nation, Iger last week labeled Florida's ambitious GOP governor "anti-business and anti-Florida" after outmaneuvering the state amid a dispute that began after Disney took a stand against the state's so-called Don't Say Gay legislation a year ago, prompting DeSantis to retaliate. Iger's latest move mirrored the blistering response of Florida-based cruise line CEOs to DeSantis two years ago when he threatened them for requiring standard vaccine passports for their crews and passengers—at the request of those passengers and crews.
Iger's words this week were matched by a brilliant set of strategic actions which took the wind from DeSantis' sails even more than did the cruise line captains. A top Trump campaign official commenting on Iger blowing away the governor's bluster said that "Governor DeSantis just got out-negotiated by Mickey Mouse."
A 1955 satirical political novel by Leonard Wibberley entitled the Mouse that Roared was later adapted for state, film, and TV productions with no link to Disney. But that brave motif was brought to life this week by Mickey Mouse's guardian, Iger. Iger decided he had enough of the corrosive political grandstanding of Florida Governor Ron DeSantis using Walt Disney World as a political foil for his own presidential ambitions and scolded the ambitious governor for his divisive demagoguery.
Bullies thrive when they see weakness. Iger's predecessor Bob Chapek unwittingly provided that opportunity and DeSantis pounced. Chapek vacillated on the company's position on the Don't Say Gay legislation, ultimately joining 130 companies opposing the bill. DeSantis' attempt to strip the company's self-governing powers granted 56 years ago by the state for Disney's 42 acres of parks in central Florida was an unparalleled governmental intrusion into private sector business decisions.
DeSantis attempted to seize control of the public safety, sewage and water service, roadways, and other municipal-type services that Disney funded, and then decide how much to charge Disney for these services. To make matters worse, a five person politically-driven board was to be given the oversight of this municipal district, including the wife of the state GOP chair—who is a longstanding critic of race relations history—a Christian nationalist, and a person who believes that tap water can turn people gay.
Defending his iconic media enterprise, Iger said: "A company has a right to freedom of speech just like individuals do," adding of DeSantis, "It seems like he's decided to retaliate against us."
Most would not expect Florida's governor to target a major corporate constituent like Disney. It is already among the largest employers in DeSantis' state with more than 70,000 Florida employees and the largest taxpayer by far. In the next few years, Disney plans to invest another $17 billion and add 13,000 additional jobs.
Highlighting this Florida commitment in Disney's annual shareholder meeting this week, Iger explained, "We love the state of Florida. That's reflected in not only how much we've invested over the last 50 years, but how much we have given back in the form of jobs and community service, taxes, tourism, and other responsible business practices. We've also always respected and appreciated what the state has done for us."
Iger's strong words were matched by smart, nimble actions. Before the governor's plan could take effect, Iger had already finalized a legal agreement with the soon to be dissolved prior oversight board which transferred the key powers DeSantis tried to seize, directly to Disney for 30 years. Leaving the governor's new oversight board largely powerless, the pact provided approval to build another theme park and restrictions that bar the successor DeSantis-controlled oversight board from making changes to Disney's properties without securing company approval. All this followed required public hearings and proper notification.
Courage is not new to Iger regarding internal Disney business or his external ambassadorial voice. Without grandiosity, Iger exudes the quiet confidence that has allowed him to speak up when the moment is urgent. He was one of a number of top CEOs who called for national unity and calm through turbulent 2020 U.S. presidential succession. Iger spoke in support of Merck CEO Ken Frazier in August 2017 when he resigned from the then-President's business advisory council in response to Donald Trump's equivocation of violent Nazis and white nationalists with non-violent demonstrators. This triggered a stampede of CEO exits and the collapse of the council. Iger was not only the first major CEO to stand behind Ken Frazier but actually preceded Frazier in leaving the council himself.
Similarly, Iger has acted with courage on internal matters, and did not hesitate in showing moral leadership when he promptly canceled top ABC TV sitcom Rosanne when its star exploded in a bizarre, unambiguous racist rant on Twitter.
Such courage never came at the expense of Disney performance. Total shareholder return during Iger's tenure was 578%, compared with 140% for the S&P 500. All this while adding 70,000 jobs. With this track record Iger had little hesitation in staring down an assault by faltering activist Nelson Peltz, despite misguided analysts advising Iger to concede to his demands after returning to office as CEO. Peltz folded with Iger's strategic repositioning, his tail between his legs as Disney's stock soared. For good measure, Iger performed a needed exorcism for his Marvel division, removing Marvel Entertainment chairman Ike Perlmutter as "part of a cost cutting initiative." On Thursday Perlmutter admitted his unfortunate collaboration with DeSantis and Peltz against Disney leadership, as well as the accusations over his somewhat abrasive style.
Whether defending Disney's business performance or its corporate character, the business mission is never one of cowardice in the face of new opportunistic anti-work court jesters of corporate governance. Iger this week alluded to parallels between DeSantis-led efforts to frighten CEOs into silence and those who were intimidated into silence over human rights abuses during World War II and the Civil War. As he said to his shareholders: "Those that stood in silence, in some ways, still carry the stain of indifference. So as long as I'm on the job, I'm going to continue to be guided by a sense of decency and respect and trust our instincts that when we do weigh in, we weigh in because the issue is truly relevant to our business and to the people that work for us."
Benjamin Disraeli, British Prime Minister 150 years ago, advised "Courage is like fire. Bullying is smoke." Bob Iger knows how to blow away the smoke of cowardly bullies. Those many CEOs looking to fortify corporate character just found a new role model to show their own boards.