Activist Investor Nelson Peltz's Track Record Doesn't Back Up His Bluster
Peltz, the founding partner of Trian Fund Management, is demanding a seat on Disney's board. Yale SOM's Jeffrey Sonnenfeld and Steven Tian found that more than half of the companies with Peltz on their boards have underperformed the market.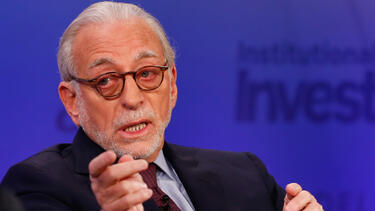 This commentary originally appeared in Fortune.
Given the sharp contrast between Disney chief Bob Iger's widely celebrated performance record—with cumulative total shareholder returns of 554% during his tenure—and the ambiguous performance of activist Nelson Peltz's Trian fund, CNBC anchor David Faber recently wondered on air, "Why would Peltz persist in his battle [over Disney]?"
It seems Peltz needs the drama and attention. Like the last flicker of a candle before flaming out, it's a sign of desperation. Based on our careful, original analysis of his investment track record, at least half of the companies that have (or had) Peltz on their board underperform the S&P during the entirety of his tenure. We shared our analysis with Peltz. His response, in a brief email, was, "Jeffrey, check your nos." I have, and I stand by them.
Not that Peltz makes this objective analysis of his track record easy. Unlike many of his activist peers, Peltz hasn't put his comprehensive performance data forward. Trian's performance is thus unavailable to the shareholders and executives of the companies he targets. We are instead supposed to trust his own unsupported claims about superior performance—despite his track record of having to file regulatory corrections with the SEC for misstating performance.
Smoke and bluster add to the confusion. In a CNBC interview last week, Peltz bewilderingly likened the iconic American brand of Walt Disney to the Chinese Communist Party. Would it be just as ludicrous to draw parallels between Russia's Vladimir Putin and Nelson Peltz because they both brag about their performance but do not transparently share the actual numbers? Why conceal the facts if they are so impressive? Are they just modest or afraid of peer envy?
That is not likely since Peltz is shuttering funds under pressure from investors. His major U.K. investment trust "Trian Investors I" apparently has not been actively enlisting major new investors or fundraising the last few years and is currently undergoing liquidation.
Perhaps his investors are turning for the exits because, despite Peltz's forceful sales rhetoric on TV, the facts are that he appears to be destroying value rather than adding any, since at least half the companies who have had Peltz on their board underperformed the S&P 500 index during the entirety of his board tenure—measured by both share price performance and total shareholder returns (TSR). These include:
And it's not just Peltz. Trian surrogates on boards, namely his son-in-law Ed Garden, the CEO of Trian, seem to have performed no better with their roles on boards, including not only the notorious Chemtura which rode into bankruptcy but also:
Even in some of his successful investments, the companies succeeded by largely doing the opposite of what he advocated.
At Pepsi, despite Peltz's 2014 entreaties, CEO Indra Nooyi smartly refused to divest North American and International beverages, heave off Frito Lay, or staple together Pepsi's winners with Peltz's losing hand at Mondelez.
At P&G, despite a lengthy 2017 white paper with granularly proposed re-organizations, the two ideas Peltz pushed the most with the board—which were to move some business out of its Cincinnati headquarters "just for disruption" and to decentralize M&A to give it to the business units—were wisely rejected.
So why in the world should Disney's shareholders, largely small retail investors across America, trust Peltz when his own sophisticated investors are fleeing for the exits and when they would have been better off putting their money in an index fund?
Peltz thinks he can spin his way out of answering these hard questions by constantly staying on the offense, frenetically bouncing from one proxy fight to another amidst a constant swirl of drama and attention, and launching a barrage of ill-supported, trite accusations against the same Disney leadership that he eagerly embraced just four years ago (not to mention false personal attacks against critics like me). But even the avuncular Peltz cannot outrun his own track record forever as Disney shareholders make their choices.