Saying 'Yes' to Solve the Affordable Housing Crisis
A lack of affordable housing is exacerbating homelessness and hobbling economic competitiveness, yet efforts to build new housing regularly meet NIMBY pushback. Three Yale SOM alumni tackle the tough challenge of getting to yes.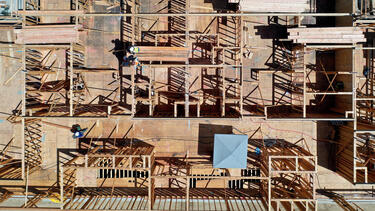 "Our lack of affordable housing is affecting our global competitiveness," said Jolie Andler Milstein '84. To illustrate her point, she cited a massive computer chip factory planned outside Syracuse, New York. When fully developed, the $100 billion facility could create 50,000 jobs and catalyze revival of a struggling region. Yet, Milstein said, ensuring there's somewhere for workers to live is becoming a critical challenge, "There's not enough housing. There are inadequate plans for housing. There is NIMBYism."
Her comments came as part of a Yale SOM colloquium, "Challenges & Progress Towards Providing Affordable Housing in the U.S.," on September 27. Joining Milstein on the panel were Ramon Jacobson '98 and Peter Simons '89. The discussion was hosted by the International Center for Finance and moderated by Yale SOM professor Cameron LaPoint.
Local pushback is a hurdle to creating new housing in much of the country. Milstein, who is president and CEO of the New York State Association for Affordable Housing, noted that because planning and zoning are controlled at such a local level a handful of individuals can stall developments for years.
Unless local officials are told by a higher authority that they have to let [dense, multifamily] housing come in, it won't happen. We have to look at zoning and land development issues at a regional or state level.
Even if projects eventually win approval delays can make them uneconomic. Proposals for housing workers at the chip factory have favored dense, multifamily development. That type of project triggers pushback so often that Milstein is pessimistic about solving the affordability crisis without policy change. "Unless local officials are told by a higher authority that they have to let that type of housing come in, it won't happen," she said. "We have to look at zoning and land development issues at a regional or state level."
Jacobson, executive director of the Washington, D.C., office of LISC, the nation's largest community development organization, said that in many cities, there is a hunger for new housing—but also anxiety about its possible effects.
"Many of the communities where my organization works have suffered from disinvestment," he said. "They are eager for change and craving investment and development." Even so, there are unfounded concerns that development will lead to gentrification or that affordable housing projects will bring property values down, and all too often, it is those concerns that get turned into policy.
"The only way to get affordability is to increase density," said Simons, a longtime building industry executive as well as the former CEO and a current board member of HomeAid America, a nonprofit that builds housing for the homeless. "The homelessness crisis is a housing crisis." While acknowledging that creating new rules will be a difficult political feat, Simons said that he believes that they are required to address the high cost and low availability of housing. He pointed to Minneapolis as evidence that zoning reform works. After a series of changes including supporting multi-family development and funding subsidized housing, "their average rent increase in the last five years is 1% versus the nation's 31%."
LaPoint described the scarcity of affordable housing as "one of the most pressing issues facing the U.S. economy today." He said incomes have not kept up as, adjusted for inflation, the median U.S. home price has more than tripled since 1963. Where saving for a down payment once took a year or two, today it requires 8 to 10 years in many markets. That puts even the least-expensive market rate housing out of reach for many. LaPoint offered contextual data: "In the 1970s, we built around 400,000 entry-level homes each year. Going into COVID, it was around 50,000 to 75,000."
To solve this problem, the panelists agreed, those who support mixed-income, mixed-use development need to make their voices heard. "I think the NIMBY phenomenon is often a vocal minority," Milstein said. "It can be countervailed by people in a community who do want development and government investments that are transformative." She sees a growing Yes In My Backyard effort in New York.
Jacobson echoed the importance of engagement. "It's a process where you have to get into it. Hopefully your project will pop on the other side with approval, but you can't avoid the debate." With input from residents, faith-based organizations, and community groups, he said, it's possible to move high-quality projects forward.
The panelists also underscored the need for policy changes that streamline development. "We're not going to solve this affordable housing crisis unless the private sector is heavily involved," Simons said. When he worked in the greater Denver area for a national builder, projects might be sited in any of 270 municipalities. Each had its own rules and approvals process. Each was "a labyrinth that you had to navigate." He added, "When you're developing housing, the longer it takes, the more requirements you have to meet, the more fees there are, it all adds to the price of that housing."
LaPoint summed up: "We're reaching consensus that there needs to be action at the state or federal level to get local governments to remove some of this red tape."
The form of that action remains uncertain; however, Jacobson pointed to a vast federal program that could have a significant impact on operating expenses of affordable developments. The Inflation Reduction Act subsidizes energy efficiency and renewable energy upgrades. "An enormous amount of money is going to flow into the housing market. A lot of it is aimed at affordable housing," he said. "And we're just on the cusp of figuring out how to spend even the first dollar."