Faculty Viewpoints: The Evolving Workplace
In an online event, Yale SOM faculty members discussed the sudden transformation of the workplace forced by COVID-19 and the potential for more lasting change.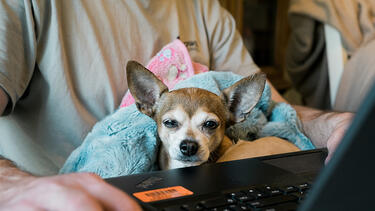 By Dylan Walsh
Eighteen months ago, roughly 6% of Americans reported that they usually worked from home. Today, about half of all Americans do. COVID-19 has changed one of the basic (if somewhat anachronistic) operating assumptions of work: that you go somewhere to do it.
That assumption fell away so radically and so quickly that many companies are still scrambling to catch up with the basics: Are employees' internet connections fast enough? What are best practices for video conferencing? What level of productivity is reasonable to expect? But these short-term concerns are only part of the puzzle; deeper questions remain about how efforts to contain COVID-19 are reshaping the workplace today and for years to come.
"This is a live case study of remote work," said Amy Wrzesniewski, the Michael H. Jordan Professor of Management, at a recent online panel discussion on COVID-19 and the workplace. "This pandemic has brought to the fore just how often work tasks and processes depend on human contact, and how much people themselves, in order to sustain their motivation, rely on being with their colleagues, their clients, the people they work with in any number of capacities." Joining Wrzesniewski were Marissa King, professor of organizational behavior, and Jeffrey Sonnenfeld, senior associate dean for leadership studies and Lester Crown Professor in the Practice of Management.
The technical and logistical challenges of working online proved to be easier to surmount than might have been predicted, Wrzesniewski noted. By necessity, every employer that can has adopted remote work, and found plenty of tools to support its success. It is likely that the current experiment will "open the eyes of managers" to what is possible and push business to adopt more flexibility for employees, she added. "Perhaps things are humming along better than managers would have predicted."
At the same time, shelter-in-place orders have spotlighted downsides of remote work, Wrzesniewski said. Workers may appreciate flexible schedules and the ability to attend an occasional meeting from bed. But the experience of traveling to and from work, the daily mingling with coworkers, constitute a central organizing principle for many people's lives. Absent this routine, Wrzesniewski said, employees are struggling with listlessness, with a lack of motivation; without physical proximity to coworkers and bosses, people often feel disconnected.
These issues have "never been more important than they are now, as we come to understand the centrality, good or bad, of work in our lives," said Sonnenfeld. He has found particularly acute reminders of this among CEOs and other corporate leaders, his field of expertise. He analogized the situation to an orchestra, with its many musicians and single conductor. A violinist or trumpeter can always practice at home, even if the experience may not be as fulfilling as rehearsal with the full orchestra. If you are the conductor, however, "your instrument is the organization. You get a sense of the feelings of insignificance that many leaders have," he said.
"I am very concerned about a mass exodus of nurses, medical techs, and PAs—precisely when we can't afford this loss—unless they are given better pay and better support."
And while COVID-19 has laid bare the inherent value of work for many people, it has also put a microscope to important dysfunctions in the American workplace. It has, for instance highlighted the discrepancy between the kinds of jobs and services one might presume to be essential based on compensation and prestige, and those that have proven truly essential when it comes to maintaining a functional economy and the lives of 330 million Americans. Factory workers and delivery drivers have, in recent weeks, sustained national supplies of food and other goods. Doctors, nurses, medical techs, and hospital janitorial staff have been central to saving lives. And yet all of these people have been working without the equipment needed to protect their own health; many of them work for low hourly wages. The panelists suggested that the current pandemic should force a reassessment of how our society values the workers we now recognize as essential.
Nowhere is this inequity more acute than in the health sector. While balcony well-wishers and nightly songs of appreciation are nice, "morale isn't going to get healthcare workers through this," King said. Based on conversations with people on the front lines, she expressed grave fears about not just the immediate consequence of inadequate protective gear, but also the long-term implications of this shortage. "I am very concerned about a mass exodus of nurses, medical techs, and PAs—precisely when we can't afford this loss—unless they are given better pay and better support."
"As hard as they are, these moments are fertile ground for dramatic change. I think we're certainly going to see something different, and it's up to us as society to figure out what we want that to be."
Wrzesniewski added that the particular burden that COVID-19 has placed on parents with nowhere to send their children should force another reckoning. "Just how much additional work and focus and time must go into that kind of caretaking work is, I hope, another thing that is hard to ignore after this crisis," she said. Perhaps, she suggested, weeks of video calls with coworkers who are simultaneously trying to entertain children will push us to recognize the need for more work-life equilibrium and better support for working parents. "Someone who is working from home without any caretaking responsibilities is living in a very different world than someone who does have them."
These larger social questions won't disappear as the pandemic recedes—as the economy slowly unshutters, as therapeutics move to market, and, eventually, as vaccines are deployed and COVID-19 is brought under control. But the state in which we currently find ourselves, the world almost frozen in time, is ripe with opportunity.
"As hard as they are, these moments are fertile ground for dramatic change," King said. "I think we're certainly going to see something different, and it's up to us as society to figure out what we want that to be."
Watch the discussion: