Faculty Viewpoints: A Global View
In an online conversation, Yale SOM faculty members discussed diverging responses to the COVID-19 pandemic and the need for global cooperation.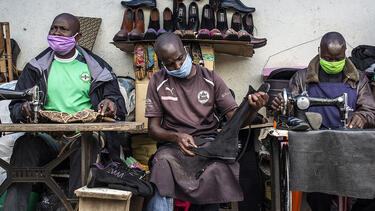 By Dylan Walsh
Three months have elapsed, and three million cases been confirmed, since COVID-19 seized headlines around the world. We have started to grow accustomed to the strange new vocabulary of 2020: shelter in place, social distancing, propagation rate, flatten the curve. The first calamitous wave is now settling as dozens of countries plan the cautious reopening of their economies. If we pause to step back, to take in the whole world, what do we see?
A recent conversation between Yale SOM faculty members Amy Wrzesniewski, Lorenzo Caliendo, and James Levinsohn took a global view on COVID-related issues ranging from the workplace to macroeconomic policy. Professor Edward A. Snyder moderated the discussion.
Wrzesniewski, the Michael H. Jordan Professor of Management, said that COVID-19 could weaken the already frayed relationship between employers and employees. The persistent uncertainty surrounding when, and how freely, economies will be able to open up could accelerate the trend away from traditional, long-term contracts in favor of gig workers. Employers are "going to want to limit their own exposure to downsides, not knowing how many resurgences of this virus we'll see, not knowing how well mitigation efforts are going to work, and so on," she said. "I don't know that this ends up reshaping employment in ways that I'm very excited about."
Huge numbers of people have already been pushed out of their work—a spike in unemployment "unprecedented in modern times", Wrzesniewski said. Perhaps the most instructive analogues are local communities or island geographies where the central economy evaporated. Investigation into this kind of historical collapse show, in addition to the financial devastation, weakened foundations of critical institutions. "Pretty quickly, we come to see the obvious economic and financial desperation, but also just general disorganization in the fabric of society," she said. "This is something that's a huge worry as we watch not just the U.S., but the differential impact of the pandemic across the globe."
In many ways, COVID-19 will play out differently in different parts of the world, the panelists said. Caliendo talked about how the ability of a country like Singapore to control the spread of coronavirus using strict lockdowns hinges not just on the government's structure and authority, but the simple economic fact that Singapore has savings. Countries that rely on foreign debt don't have this luxury, and many will soon begin defaulting on their loans.
Levinsohn agreed that there is a troubling divide between rich and poor countries. Policies imposing social distancing and sheltering in place aren't realistic when large percentages of a workforce live in dense housing and depend on daily wages to get by. "There is a sense in which some of these policies that have proven effective are simply infeasible in large parts of the world," he said. "That's terrifying, both on a human scale and with regard to what it may portend for a country's social fabric."
"When it comes to cooperation, trade, international R&D, and sharing of knowledge—the benefits have never been higher."
Countries also differ in their manufacturing capacity, as has been apparent in the struggle to secure personal protective equipment for medical workers, ventilators for patients, and reagents for testing. Caliendo explained that a related complication waits on the horizon with regard to vaccine distribution. Only a handful of countries are able to research, develop, and manufacture vaccines, and once production is underway it remains to be seen when and how they will get to everybody in need.
Countries are looking inward just as global cooperation is needed, Levinsohn said: "When it comes to cooperation, trade, international R&D, and sharing of knowledge—the benefits have never been higher." Any kind of protectionism or political gamesmanship right now would be disastrous. "A vaccine or treatments may end up coming from China, from India, from Western Europe, and wherever they come from, having an open system by which those advances can be shared globally is just essential."
Caliendo noted that shocks like this tend to produce global institutions geared toward preventing or handling similar shocks in the future. "This usually happens in a moment of global need," he said, wondering which, if any, countries will emerge as advocates for such an institution. Leadership and foresight will be in dire need; it also may be in short supply as nations tighten their borders.
Wrzesniewski, too, highlighted the centrality of the ties that bind us. "In times of threat, groups tend to cluster together and tighten up boundaries, they tend to not be as cooperative with others," she said. "We need to keep in mind that increasing the levels of cooperation and collaboration, whether organizationally, nationally, or societally, is perhaps our best strategy going forward."
Watch the discussion: