Don't Stop Investing in Philanthropic Goals
The impact of COVID-19 has sucked the oxygen out of the room for many organizations, as they cope with sudden changes, dislocations, and new priorities. But human needs continue in all their variety. We asked Teresa Chahine, an expert in social entrepreneurship and public health, how philanthropies and donors can respond to the turmoil caused by the crisis while keeping their long-term goals in mind.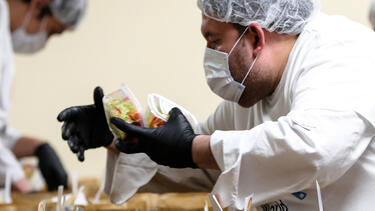 How should philanthropic organizations be thinking about their roles – should they refocus or step back if they aren't focused on health/basic survival?

Now is not the time to step back. The same injustices and inequities which have led to some people being more vulnerable than others during this crisis will persist and grow. It is imperative to continue investing in programs and organizations addressing health inequity through social determinants of health. Examples of social determinants of health include income, education, occupation, housing, violence, discrimination, and environmental exposures. Individuals and communities who are disadvantaged with respect to the above factors will be disproportionately impacted by COVID-19. 
It is imperative to continue investing in programs and organizations addressing health inequity through social determinants of health.
This week is National Public Health Week (#NPHW). Each day has a theme. Let's take the theme of economics, which will cap off the week. Key recommendations under that theme include increasing access to job training and opportunities, ensuring that all workers have access to health insurance, creating supportive work environments that provide paid family and sick leave and flexible scheduling. Philanthropic and non-governmental organizations (NGOs) around the world are working to create job training and opportunities. Now is not the time to stop investing in these programs.
What about donors? Should I give to the most pressing needs to the detriment of other organizations I usually support?

You should give to the most pressing needs—and you should maintain a long-term view of what society will look like post-COVID-19 if you stop supporting organizations working to increase access to education, employment, job creation, a safe and healthy environment, and a more equitable society.
Has this crisis exposed flaws in the structure of philanthropic giving or pointed toward a new model?

That is a great question. I think it is too early to tell. What I do know is that flaws in philanthropic giving, and promising new models, have been exposed far before this crisis. What we need to do is pay more attention to the existing evidence of what works, and how to implement it. Let's start with three recent examples from right here in the SOM community. The Evidence in Practice research project lays out a set of conditions under which rigorous evidence can be effectively integrated into public policies and NGO practices in the field of international development. The Yale Research Initiative on Innovation and Scale (Y-RISE) advances research on large scale implementation of tested programs, and the complexities that arise with scale. This spring at SOM, alumni convened with students, faculty, and leading practitioners at the Yale Philanthropy Conference to discuss philanthropic equity: how financial tools and practices can be adapted to serve people and places now left out of mainstream markets.  We can start by building on these initiatives to improve the efficacy, scalability, and equity of philanthropic giving.