Does New York City Need Lincoln Center?
Performing arts organizations are contending with aging audiences and shrinking budgets, and looking for new ways to reach audiences. Yale Insights spoke with Jed Bernstein '79, formerly a theatrical producer, as he prepared to begin his new job as president of Lincoln Center, the country's biggest stage for classical music, opera, and dance and a pillar of New York City's economy.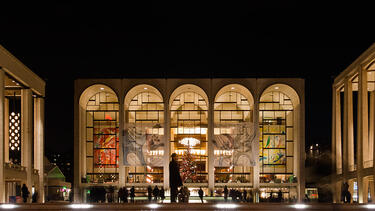 Earlier this year, Jed Bernstein '79 became the president of New York City's Lincoln Center for the Performing Arts. Bernstein began his career at the advertising firm Ogilvy & Mather, and then became the president of the League of American Theaters (now the Broadway League), the industry trade association. Most recently, he was a theatrical producer with several Broadway credits. He spoke to Yale Insights in late 2013, as he prepared for his position at Lincoln Center.
Q: Even before the financial crisis, there were bankruptcies in the performing arts, there were labor problems, there were deficits, and for many groups it's gotten worse. Do you think the model itself needs to change for how serious performing arts is done?
Well, I think that the performing arts as we know it, the so-called high performing arts—classical music, dance, opera, etc.—as well as the more popular performing arts—Broadway and drama—has in one way or another been around for 3,000 years and its essential appeal, which is many people sharing the experience of hearing a story or a musical mood together, I don't think that has changed and I don't think it will change.
I used to say when I was running the Broadway League, the more entertainment became technology-driven the happier I was, because live entertainment was going to stand out in contrast to that. I don't think there is anything wrong with the product, if we can use that crass a word. I think the challenge though is how to distribute that product and how to attract audiences, because what has changed is that people under 35 don't consume most of their entertainment in a really serious-looking building, sitting quietly, having made their plan x number of days in advance. They want to be entertained in the way and at the time that they want and they want to be able to share that experience either while it's happening or immediately afterwards. And not as many people are being exposed to these things when they're younger and so they don't grow up having appreciated the traditions.
So I think all of us who are arts presenters and producers and lovers have to really think about how we share this going forward. If you look around the audience at a classical-music presentation, they are really old. I mean, I used to think Broadway theater audiences were old but classical musical audiences are really old.
A part of it is the physical part of the access and how you buy the ticket, understanding the conventions of how it's presented, where it's presented. Some symphonies are experimenting with what's called multiple stimuli. The New World Symphony in Miami has video support with their music sometimes but also tries to provide access intellectually to the music. It's asking a lot of people—of anybody of any age, frankly—to enjoy something when they don't know what's going on. There should be a way—and it's so easy now because of technology—a way that if I'm going go see an evening of Mozart that I can understand what it is I'm listening to and I can understand the context in which it was written and I can understand, historically, how it's been performed.
Q: Lincoln Center has a complicated relationship with New York City government. What are the challenges? How does it affect your job managing the organization that it's not simply a business but is, in some ways, an institution of New York City?
I think the fundamental appeal of this job is going to be the intellectual challenge of how you manage these multiple audiences. There are the audiences who are buying the tickets but you have board members, you have donors, you have government, you have neighborhood community folk, you have corporate partners, you have any number of people who have an interest in Lincoln Center and have a point of view about Lincoln Center and have opinions.
So I'm not sure that the government relationship is inherently different than any of the others but it certainly is vital. The $1.2 billion renovation of the campus that has just been completed could not possibly have happened without support from both the Giuliani and Bloomberg administrations, financially and otherwise, and I suspect that when we begin the renovation of Avery Fisher Hall, which is the last big piece of the puzzle that has to be done, we will be looking for that support again.
The equation in New York is pretty simple: tourism is—along with finance and real estate—the most important industry in New York, with 55 million people projected in the next 12 months. The number one reason people come to New York as tourists is because of the arts and that includes museums and Broadway and all the arts. The crown jewels that New York City has—the Metropolitan Museum, the Museum of Modern Art, Broadway, Lincoln Center, Brooklyn Academy, all the many institutions—are vital pieces of this economic machine.
I think if we all start from that premise, then how we keep the machine oiled and running and productive, that becomes the challenge. I have no worries about the city recognizing its vested interest in the success of all these institutions.
Q: How are you going to define success for Lincoln Center? Who benefits when Lincoln Center succeeds?
I'm mostly going to demure, I think, because truthfully I haven't come to a conclusion about how I want to define success. But I could make this observation: I have in the run-up to starting this job been spending a lot of time at the Lincoln Center campus, and spending a lot of time on there at hours when I normally wouldn't be there, like 1:00 on a Wednesday. It's really noteworthy how active a place it is, how beautiful a place—not just because of the renovations but that certainly is a big part of it. It is an absolutely unique collection of buildings, institutions, and people all in a roughly five-square-block area.
I don't think there's any place like it in the world. The L.A. Music Center certainly has a fairly large footprint but it doesn't have as many institutions around. There are performing arts centers in Asia that are being built that are going to be very large but they, again, don't have the concentration of artists and the institutions that go with Lincoln Center. It's pretty remarkable to see school kids running around, tourists at the fountain, people having their lunch on the grassy slope that has been a part of the renovation. One of my favorite things is to just be there when the campus is pretty quiet but lit on a September night. That's the movie moment of New York.
So I think that the existence of Lincoln Center and what it did historically in terms of spurring redevelopment of the West Side, jobs, the greatest artists in the world in so many disciplines, in so many ways, however you want to define art, it's a pretty unbelievable institution, a pretty great brand.
Q: You mentioned the renovation. How does that renovation fit in with the broader mission of building an audience?
Well, I think that the strategy, or the narrative, was about opening up the campus and physically underlining this idea of accessibility. A lot of real estate in New York was built at a time when there was a fortress-like mentality, that we want to have these jewels but we have to protect them from what's around them. I think we've come to understand as New York has evolved that we really want the opposite, which is we want to open them. A number of hotels in Times Square have lobbies on high floors because they imagined, who would be in the lobbies if they put it at street level? And now they're sorry because they really would like to have that street access and instead it's just an elevator lobby.
So I think the watchword for the renovation was opening things up, 65th Street being a good example. There's still a bridge just as there was but it's a very light and airy bridge, as opposed to what looked like a fort. The entrance to Julliard, which is the great sloping windowed entryway now where there are these gigantic steps that you walk up, a completely different feel. On the reverse the side steps that have been built to come up to campus by the new restaurant and the Lincoln Center Theater, between the Philharmonic and the Lincoln Center Theater, have a completely different feeling now. I think if we say that one of my objectives is to think about access programmatically speaking, I think it dovetails beautifully with what has been accomplished, architecturally.
Q: Lincoln Center for the Performing Arts produces its own programming and also manages the Lincoln Center campus, essentially renting space to the New York Philharmonic, Metropolitan Opera, and other organizations. How does that affect the job, the fact that you have these organizations that are partners but not subsidiaries? There's cooperation but sometimes competition, presumably, and different strategic objectives.
We talked earlier about having multiple audiences. I think the same thing applies to our relationship that we have. It's a really multiple relationships. We are landlord, we are competitor, we are co-presenter, we are funder, we are competitive funder, we are many, many things, and it's complicated, as many things are in New York and as many things are in the arts. At the end of the day, if we're not gathering resources, both intellectual and economic, to enable people and institutions to be great at what they do, then I don't know what the point is, and so I hope, ultimately, that's what unifies everybody.
I had a really useful experience when I was running the League of American Theaters, which is the trade association for Broadway. We had 500 or so members—venue operators, theater owners, producers, general managers, municipally run buildings, privately run buildings, etc.—and our job was to not only represent everybody's interests but to help define what those interests were, what those compound interests were. That's not easy, because in many ways those different groups are fundamentally opposed to each other. There's no secret sauce, there's no magic to it, except to say you collaborate where you can and you communicate always, so even if you can't share common ground on an issue, at least you need to be able to communicate with each other so that you don't exacerbate the problem. My hope is that that's going to be a transferable paradigm for this.
I love going back to the founding principles, and so I've done some reading now about the building in Lincoln Center and the establishment of Lincoln Center. For our founding fathers—the Rockefellers and others—part of the concept was that it wasn't just about putting performing artistic institutions in New York in one place; it was about putting them in one place so they can work together, and that's the unique opportunity.
That always was the dream, and there are some wonderful things one can point to but we need more. We need that to be the standard operating procedure. Peter Gelb at the Met doesn't need help in figuring out how to produce an opera. Peter Martins at New York City Ballet doesn't need help in how to produce a ballet; he knows how to do that. But what would happen if Peter Gelb and Peter Martins did something together? The National Theatre in London is only about a mile to the Royal Opera—which is a nine-and-a-half-hour cab ride in London traffic—but I don't think, intuitively, they think about working on something together, because they don't have the advantage of being contiguously located. So I hope that having that culture of collaboration will go a long way to balancing out competing objectives.

Interviewed and edited by Ben Mattison.