Despite Risks, Garment Factory Jobs Have Long-Term Benefits for Bangladeshi Women
The April 2013 collapse of Rana Plaza, the worst in a string of deadly building collapses and fires that killed more than 1,100 garment factory workers in Bangladesh, prompted efforts to make factories safer and to protect worker rights. While the industry poses risks to workers and much improvement is still needed, a new study finds that garment factory work reshapes the lives of women in Bangladesh in positive ways.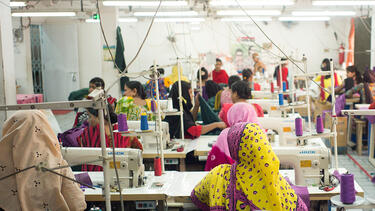 Bangladeshi women with access to garment factory jobs are able to avoid early marriage and childbirth and stay in school, according to the study, to be published in the Journal of Development Economics.
"Garment factory jobs bring about meaningful development for women. Instead of banning imports from Bangladesh, as has been suggested, we should instead work to improve safety," says Mushfiq Mobarak, a development economist at the Yale School of Management and co-author of the study.
The garment industry in Bangladesh has grown rapidly over the past 30 years. Virtually non-existent before 1980, the industry has grown an average of 17% per year and now accounts for over 75% of Bangladesh's exports earnings. Approximately 80% of the 4 million garment factory workers in Bangladesh are women, and about 15% are between the ages of 16 and 30.
To study the impact of the growth of the garment industry on the lives of Bangladeshi women, Mobarak and Rachel Heath of the University of Washington examined data on marriage, childbirth, and school enrollment from 1,395 households in 60 Bangladeshi villages. They compared the outcomes for women based on their exposure to garment factory work, taking into account their commuting distance to a garment factory and the date on which the first factories opened close to each village. They also compared women's outcomes to those of their male siblings.
Marriage and childbirth drops sharply for girls aged 12 to 18 who have access to garment factory jobs. Girls who live near a garment factory are 28% less likely to be married and 29% less likely to have given birth than those living in villages farther away from a factory.
The study findings indicate that the delays in marriage and childbirth likely stem from younger girls staying in school longer to obtain the literacy and math skills required to get a garment factory job once they are old enough to work, and young women postponing marriage to work outside of the home.
Girls who live near a factory have an extra 1.5 years of education relative to their brothers, with the strongest effects observed at young ages. Girls and young women who are exposed to factory jobs when they are between 10 and 23 years old, a critical age group at risk for early marriage, are 17 percentage points more likely to work outside of the home before marriage, a 79% increase over those without access to factory jobs.
"This research shows why it is important to evaluate the full range of potential effects of policies such as a ban on imports from Bangladesh," says Mobarak. "Our results indicate that banning imports may end up hurting the same workers that the ban is intended to protect. What would the lives of these women look like if these factories shut down?  Are they going to be better off? If not, it might be better to spend our energy and resources to improve factory safety, rather than disengage from Bangladesh."
"Manufacturing Growth and the Lives of Bangladeshi Women" by Ahmed Mushfiq Mobarak (Yale School of Management) and Rachel Heath (University of Washington) is forthcoming in the Journal of Development Economics.
Related: How Has Globalization Benefited the Poor?