Collaboration Can Close Healthcare Gaps—But It Isn't Easy
Organizations working in underserved communities typically don't have all of the resources they need. Collaboration among organizations and across sectors can help sidestep this challenge, said a group of leaders at the Yale Healthcare Conference—but it must be pursued strategically.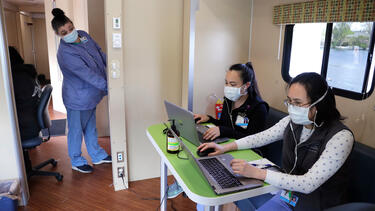 Leslie Sude, a pediatrician at the Yale School of Medicine, was seeing many young patients with behavioral and developmental problems. They tended to come from impoverished backgrounds; their challenges were often rooted in trauma. Often, Sude would talk with them and their parents about the benefits of enrichment activities: for example, how a ballet or karate class could help the child work through the issues they faced.
"I would get blank looks," Sude said. Enrichment, she realized, costs money, and many of the families had none to spare. "So I started thinking about my role in discussing access to money." She opened space for conversations about things like college savings accounts and found in her patients a great hunger for the information. Sude had never taken classes on financial literacy, though, so she reached out to organizations in New Haven and elsewhere to build a program within the hospital that focused on economic wellbeing.
Sude recounted this story at the Yale Healthcare Conference, where she was one of four panelists in a discussion titled "Bridging the Gap: Collaborating for Improved Access to Human Services in Underserved Communities." Sude spoke in conversation with Amos Smith, the president and CEO of the Community Action Agency of Fair Haven, Lori Martin, co-founder and executive director of Haven's Harvest, and Daryl Brackeen Jr., a five-term alderperson in New Haven who stepped down in April.
Suzanne Lagarde '14, CEO of Fair Haven Community Health Care, who moderated the panel, began by noting that work with underserved communities is often defined by the challenge of limited resources. Collaboration, she said, is a way to stretch these limited resources.
In his years as a teacher in the New Haven Public Schools, Brackeen said, he struggled to address student needs beyond the classroom, like food insecurity and lack of access to healthcare. He reached out to every nonprofit that was willing to listen. "But no matter what I did, it was not enough," he says. "So I went to City Hall."
Working within government, he found, provided much greater leverage for change—especially after the pandemic hit and some of the more stifling rules of bureaucracy were suspended under emergency order. He and a number of colleagues were able to rapidly shape new policies around childcare statewide and address longstanding challenges of diversity, equity, and inclusion in New Haven.
But this was a peculiar circumstance, "and now we're back to normal on the government side," Brackeen said. That can mean significant red tape slowing down collaborative efforts.
Another challenge that Sude described is the issue of territoriality. When not long ago she convened a flu vaccine task force in New Haven, she was told by somebody from the city health department that "this is our city and we should be the ones running this," she said. "But, in my mind, this is all of our city and we are all responsible for caring for patients."
Lagarde offered two ways to evaluate when pursuing a collaboration makes sense. First, a collaboration can be evaluated on its potential impact: is the topic being addressed of critical importance, and does the collaboration, as designed, have the ability to achieve its aims? Alternatively, a potential collaboration can be evaluated based on the relationships it offers: who else is taking part, and what connections might be made?
"We should also recognize that no institution is a monolith," said Martin, of Haven's Harvest. She has built a collaboration with Yale, for instance, in which she takes edible food that the dining halls are going to throw away and delivers it to organizations that distribute it to people in need. She has met plenty of resistance in the development of this partnership, she said, but she has also found key pockets of advocacy within the university. "The dining room managers, the kitchen staff and chefs—they all support us, and they do extra work to help this partnership thrive."
In the end, collaboration is a way to do more with less. "People collaborate around complex issues typically, around the things that a single organization cannot complete by itself," said Smith. Lagarde cited Helen Keller's famous quotation: "Alone we can do so little; together we can do so much." But Smith also pointed out collaborations must be approached and considered strategically.
"They require time and effort," he says. "When building a collaboration with one or more groups, you have to weigh whether the value in terms of time is worth the potential outcome."