Can Newspapers Be a Growth Business?
In the digital age, newspapers remain an important source of on-the-ground reporting and in-depth journalism, but the advertising revenue that once supported those expensive endeavors is disappearing. Some newspapers are closing down or scaling back; others seek to reinvent themselves and their business models. Jack Griffin '88, CEO of Tribune Publishing, which publishes 10 major newspapers, talks about how he's positioning his company.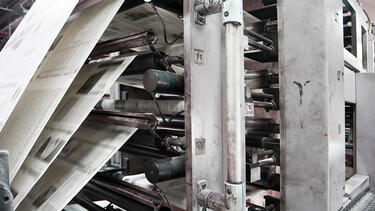 Q: You have family history in the newspaper business. Was that part of what led you into this work? 
It's always been a motivator in terms of being, for most of my career, in the media business. My grandfather was the editor-in-chief of the Boston Post in the 1950s. My dad was a reporter and editor there. My first job out of college, I was a reporter, so it's been my life. I've worked in many sectors: magazines, television, and digital. This is my first assignment running a newspaper company.
Q: To what degree is it still the same business your father and grandfather were in?
I think the role of the newspaper in a community is eternal, but the business has changed tremendously. Back in the 1950s, a city like Boston might've had five or six newspapers. There were morning papers and afternoon papers, liberal papers and conservative papers. Now, the way that the business has evolved, most cities can support only one important newspaper.
Newspapers have been through so much pain and adversity, but we're believers in the power and the potential of the medium. Every one of Tribune Publishing's newspapers is profitable. Our newspapers are in markets that really matter like Los Angeles, Chicago, and Baltimore. Most are in growth markets, and in almost every case, they're the number one provider of local news and information.
The brands are iconic. Think about what it would cost, today, to create a brand like the Los Angeles Times. You can't even postulate. The potential to unlock the power of these brands in a new structure of being a standalone newspaper company, I think, is significant.
Q: What are the key sources of revenue?
The revenue makeup is quite different than it was when newspapers were fundamentally supported by classified advertising. In North America—it's not the same around the world—the share of advertising dollars that are going to newspapers as well as the absolute dollar amount has been in decline for about ten years.
There's a tremendous amount of transition happening with the migration of marketing dollars into all forms of advertising and to all other forms of marketing, from social media to video to in-store promotion. The companies that are successful in traditional media, whether they be newspaper companies or magazine companies, have positioned and are positioning themselves to capture more and different kinds of dollars spent by marketers to reach audiences.
We're developing lots of new revenue streams in digital, in marketing services, in video, in social media, that derive from the strength of our brands on the one hand, but also the relationships that we have with advertisers who trust us and want to work with a known entity.
I go back to my days at Meredith where we created a business called Meredith Integrated Marketing that became a very large marketing services business. We disrupted ourselves by acquiring and knitting together small digital companies in a way that created a marketing services company inside of a publishing company. At the time, people said, you shouldn't be doing that, you're a publisher, but, it was one of those breakthrough developments that changed the fortunes and the dynamics of the company.
I think it's self-evident that finding ways to break out of your box and disrupt yourself and do things that, six or seven years ago, you probably would never think of doing is now part of the DNA of the business.
In the Chicago marketplace, for example, we act as an agency for several big clients producing original video and managing social media. Newspaper companies are increasingly becoming marketing solutions companies, as opposed to just depending on traditional advertising to support the business.
Q: Beyond the business innovations, do you expect the journalism side to be thinking about innovation? 
On the journalism side, there's a different set of factors driving adaptation. Look at all of the pure digital sites. Many of them masquerade as news sites; whether you think the quality of the news is satisfactory or not, what's indisputable is huge audiences. Editors and journalists pay attention to that because the business is about the audience, and so we've got to be the kind of company that delivers to the audience not only what it needs but what it wants.
Way back when, many newspapers had the idea that we'll tell the audience what it should know. Now, that's obviously in transition as well, and the really good editors are understanding how to master that art and science.
Q: To what degree is the newspaper the product, versus being a platform that can bring in other sources of revenue? 
I always think about it in a sequential way, which starts with the content and goes from there to the brand. When the Chicago Tribune does an investigative series, that matters in Chicago and the state of Illinois. Consumers come to the brand for a unique kind of content, and it's the brand that gives that content the authority and legitimacy.
Newspapers like ours have tremendous convening power. In the state of Illinois, there is a very intense race for governor going on. The two candidates squared off for the first time in the editorial boardroom of the Chicago Tribune. Their exchange created a tremendous amount of news interest and opinion reporting across the state. That helps to shape the dynamic of the race for governor. Important newspapers played that role in the 1950s; they still play it today.
Q: Investigative series are expensive. How do you decide how much to invest in the journalism? 
That's a great question with a very imprecise answer. A tremendous amount of judgment is brought to bear on how we run not only our overall business, but each particular business. The Chicago Tribune has hundreds of reporters, editors, photojournalists, and videographers. The way that news is gathered, vetted, and ultimately disseminated is in transition. Our newsrooms now produce more and more original video content.
What remains steadfast about the journalism, whether it be distributed in video or on a piece of paper or in a digital form in text, is that newspapers, by and large, are the last vehicles left standing that do original reporting and investigative journalism. They create premium original content and that matters in the local community.
The art of running a company like ours these days is staying centered on that and figuring out, as the world changes and consumers change and technology changes, how to create the revenue to support the news creation and the content generation. And that's a whole lot of judgment, as well.
Q: A number of media conglomerates, including the Tribune Company, News Corp., and Time Warner, have spun off their publications. What is driving that? 
I think each one is a little bit different, so I can speak about Tribune. What's now Tribune Publishing, is a very big newspaper company with $1.7 billion or so in revenues on an annual basis. It was nested inside a diversified media conglomerate that owns television stations and cable networks and was largely focused on video and entertainment. Running a big, metropolitan newspaper doesn't have very much to do with running a television station.
In part, I think what's happened is the market—the companies you rattled off are all public—said, we value a group of TV stations differently than we value a group of newspapers. I think what companies have done is acknowledge that reality.
If I'm a mutual fund investor or a pension fund investor, I can diversify on my own. I can buy a TV company, a newspaper company, or a magazine company if I want; I don't need a media owner to do that for me.
More importantly, publishing assets, inside of bigger, multimedia companies, have a lot of difficulty getting management attention and the capital allocations that are necessary to grow the business. In a big, diversified company, you're always competing for scarce resources, and in a company with TV stations, the money generally has gone to TV.
As a separate, standalone, publicly traded newspaper company, we can make capital allocation decisions based on the business that we're in. We're able to be very crisp with the owners of our stock and our debt about the business that we're in, how we're conducting it, and how they should measure us.
Q: Some notable publications have been bought by wealthy owners and taken private. I'm thinking of Jeff Bezos and the Washington Post and John Henry with the Boston Globe. What is going on? 
I don't have any special insight into the motivations of those people, but that's a fundamentally different exercise than the one we're engaged in. The Globe is a standalone property. The Washington Post is a standalone property. I'm not saying it's better or worse, it's just different.
At Tribune Publishing, we have ten newspapers. We own our own printing presses. We have a very large infrastructure. We're a scale company. What we're doing is leveraging our scale to become a growth company in an industry that hasn't grown in quite some time. In the process, we think we'll create equity value for our shareholders by leveraging not only our infrastructure but our expertise across related assets.
We think there's going to be more consolidation, and we're establishing ourselves as a consolidator.

Interview conducted and edited by Ted O'Callahan.