Building Blocks for Change
Judith Scimone '00 has had top human resources roles at Bank of America, Motorola, Johnson & Johnson, Google, and since January, MetLife, where she is senior vice president and chief talent officer. We talked to her about her path into workforce management and what she has learned in a year shaped by the COVID-19 pandemic and the Black Lives Matter movement.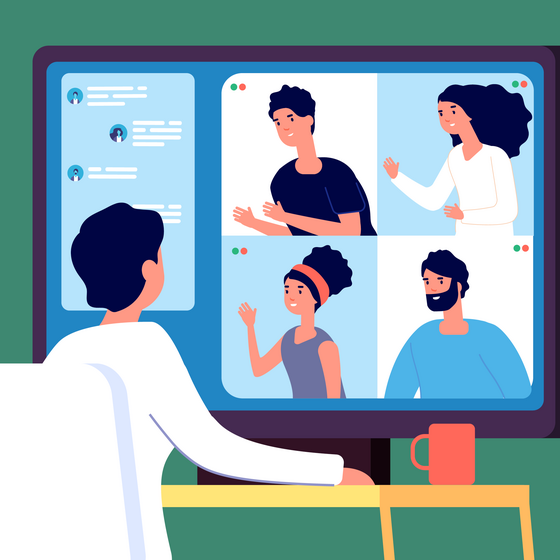 Q: Why did you start building a career around human resources?
I love systems. I'm fascinated by the way you can take some foundational building blocks and put them together in different ways to create the system you need for a given context.
I began my career as a mechanical engineer. I did some Six Sigma work and then some projects in what was called "personnel." I realized I really liked organizational stuff.
At SOM, studying leadership, marketing, business strategy, and organizational strategy, I saw how these pieces were building blocks. I saw the similarities between mechanical systems and organizational systems. I learned how you adapt the system to the circumstances.
SOM's focus on both for-profit and nonprofit also helped with that. Not just seeing examples across sectors in class—I was meeting people from different organizational backgrounds, professions, and geographies. That was really a catalyst for me.
I value diversity of experience and perspective. I didn't have that type of exposure in my day-to-day life growing up. Once I started to get into the functional area of HR, mentors helped me see the value of being able to do HR in different contexts—different businesses, different countries, different sectors, and different business cycles.
When I think about where I am today, it's because I've been able to apply what I know in multiple contexts and that prepared me for this moment.
Q: What has it been like to lead in HR at MetLife during the pandemic?
"Things that we thought would take years—figuring out how to access and serve customers while everyone worked from home—we were forced to do in a week. Even so, the change was thoughtful and deliberate but quick."
I joined MetLife just a few months before COVID hit. It's hard for me to talk about what was there before, but the teams in my organization adapted really well. Things that we thought would take years—figuring out how to access and serve customers while everyone worked from home—we were forced to do in a week. Even so, the change was thoughtful and deliberate but quick. It was focused on adapting to fit for purpose versus the perfect circumstance.
There was a focus on taking care of each other, making sure that everyone was safe. That has always been there, but in the context of a pandemic, things like family, health, and wellbeing have just come to the forefront.
There's been no room to separate personal and professional—literally no room, because we're all stuck in our homes. And we're seeing each other's living rooms and home offices. We're seeing that every person has all these different dimensions as we figure out how to function in this new context.
Then there was the killing of Mr. Floyd.
Q: How has that changed things?
The killing of George Floyd has led to real conversations about race. Conversations about who you are, your identity, are very real and very personal, especially for me, being Black. But I'm really proud of the conversations we've been having.
Our leadership team has spent hours talking about race and systemic racism, not just at a high level but how it applies at a very personal level. I think there's a very different dynamic than there was before this.
I've witnessed our CEO's desire and commitment to making sure that we have a more racially just organization and that we do our part in making that happens in society, too. The outpouring of support from people within our organization around racial justice makes me believe that work has become the place where we have the most opportunity to talk about these things. Someone recently pointed out that most of us probably don't have the diversity in our homes to discuss and confront these issues. In our workplace, we do. I know in our organization those conversations with others who maybe don't see things in the same way have started to happen.
Perhaps the current context has made it possible. We're home. Everything is personal. We're talking to each other from wherever we can find a quiet spot in our houses. That has precipitated a totally different type of dynamic in the workplace. Add to that the things we've had to deal with—health, safety, racial injustice, and political dynamics. Talk about a blending of your work and personal life. Quite honestly, it's just life. We all have this one life, right? We had been trying to parse it out differently—work sphere, personal sphere; now we've had to bring it all together.
Q: You're describing a set of very difficult circumstances, but it sounds like there is also a sense of pride and hope and excitement.
As painful and as difficult as it has been, I am filled with hope, because of the way that we're reacting, especially in the workplace. The workplace is becoming a place that is trying to tackle this issue, as opposed to trying to not bring identity into work. That's new. That's the biggest difference that I see now.
I see us trying to make an impact in a different way. Not trying to escape it, not trying to box it into something. I see everyone taking it very personally, which is something we do when it's something we care about. How can things not change?
Q: You're pointing to difficult conversations as a sign of hope, rather than, say, a series of initiatives.
With something like racial relations, you're not going to describe it in one sitting, and you're certainly not going to solve it with a few initiatives. Absolutely, there need to be systemic changes, but the foundational step is people connecting and acknowledging what is happening.
These issues have been in our society for centuries. They are so complex and layered even a good conversation is only scratching the surface. There's frustration because we're driven to solve things now. We want someone to say the thing that solves this. We want a series of initiatives that will solve it.
That's what I worry about, quite honestly, if we try to solve something so complex today, we're just going to frustrate ourselves. That will lead to people giving up.
We're not going to be satisfied with where we end any conversation anytime soon. We've got to be tenacious. We've got to keep striving. We solve this by being deeply human and findings connections. That requires honesty. That requires debate. That's what we're starting to do.