Bringing Private-Sector Values to the Public Sector—and Vice Versa 
As commissioner of the Connecticut Department of Social Services, Roderick Bremby led a dramatic turnaround of the state's Supplemental Nutrition Assistance Program. Today, he is an executive at Salesforce, which has provided contact tracing and vaccine management during the COVID-19 pandemic. Professor Teresa Chahine talked with Bremby about his career and the converging roles of the public and private sectors in addressing public health.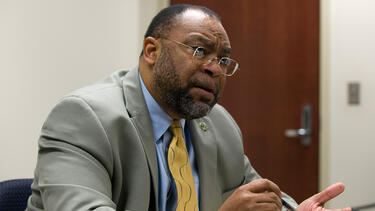 In 2011, Roderick Bremby was named commissioner of the Connecticut Department of Social Services, with responsibility for the state's Supplemental Nutrition Assistance Program and more than 60 additional programs, including Medicaid. CT SNAP was then ranked among the country's worst food stamp programs, with overwhelmed staff and delayed and inaccurate benefits. Over the next several years, Bremby transformed the program, reengineering business processes and digitizing, and streamlining the application process. By 2018, the federal government recognized the program as one of the best in the country.
Before coming to Connecticut, Bremby served as secretary of health and environment in state government in Kansas, where he made headlines when he cited greenhouse gas emissions in denying a permit for a proposed coal-burning power plant. He is now an executive in the global public health business unit at Salesforce, which has provided contact tracing worldwide during the COVID-19 pandemic and introduced a vaccine management solution in the fall of 2020.
Recently, CT SNAP's turnaround was the subject of a Yale SOM case study, co-authored by Professor Teresa Chahine for her course "Social Entrepreneurship in Public Health." Earlier this year, Chahine talked with Bremby about bringing private-sector-style innovation to state government and the role of businesses in addressing societal needs like public health—a convergence that is accelerating during the pandemic.—Ben Mattison

Teresa Chahine: When I had a call with Rod to prepare for him visiting my class, and he told me about his role at Salesforce and how they're deploying solutions to address COVID—at the time, it was contract tracing, and now it's the vaccine—I said, "We can start with the case, but then I'd also love for you to just speak to my students about your work in the private sector today, and how and why you joined the private sector after leading state government agencies in multiple states. I think we need to talk about that."
The CT SNAP case was meant to be about intrapreneurship and innovation within the government, within a public health agency. But we also ended up talking about Salesforce's core values and as an example of conscious capitalism, where companies feel their role is to produce positive social and environmental outputs in addition to positive economic results. And conscious capitalism is something that keeps coming up in my classes, and it's really what SOM embodies—the intersection of business and society.
"This is a moment in time when public health can serve as a platform and an opportunity for more companies to start practicing conscious capitalism, because everybody has a vested interest in a healthy society."
I wondered whether this is a moment in time when public health could serve as a platform and an opportunity for more companies to start practicing conscious capitalism because everybody has a vested interest in a healthy society.
Business leaders don't often think of themselves as people who have a role to play in public health. But everything is a driver of health, so a company could impact education, nutrition, pollution, transportation, access to green space, healthy communities, racial equity, gender equity. No matter what your job is, you can produce positive health outcomes.
Rod, a great place to start would be to tell us a little bit more about how you took CT SNAP from worst to first. What was the role of innovation and private-sector methodologies?
Roderick Bremby: In terms of that transformation, we had a lot of teams working together. Some of the private-sector capabilities deployed were business process reengineering. Simply, we wanted to understand how the work was being performed through process analysis, and then assess where the efficiencies could occur and eliminate redundancy and increase workforce capacity.
Prior to this work, fewer than 6% of customers visiting our 12 regional offices left with their business wholly accomplished. In other words, they had to keep coming back repeatedly. And we convinced the team—the staff in the field—that if they were able to satisfy their customers' needs with one visit, it would make their customer's lives easier, and it would make our lives easier, given that we wouldn't have to keep paperwork available, stored, and ready, for the customer to return. So we were able to go through the business reengineering process, drive something north of 90% of first-touch resolution across all offices within a matter of months.
We had a transformation on the Medicaid side of our organization as well. When I came into the Malloy administration, there was a desire to move towards a single-payer, state-based healthcare program. When Malloy came in, [former secretary of the office of policy and management] Ben Barnes reviewed the condition of the state budget and found that it was not possible to support a single-payer healthcare program for the state.
So we did, I think, the next best thing. We decided to implement a self-insured Medicaid program, a radical departure from the direction most state Medicaid programs were moving. Most states contract with managed care organizations to minimize their risk and cap their annual expenditures for the Medicaid program. We went the other way and became self-insured as a state in 2012, which meant that if our expenditures exceeded the line item in the budget, resources from other places in the budget would need to be found to ensure that the budget balanced at the end of the year.
So we again deployed best practices from the private sector. We performed risk stratification across the Medicaid population to understand which members were indicated for additional cost trends. And we also engaged an administrative service organization to deploy an intervention using nurses for intensive care management for those members. Nurses engaged Medicaid members at the greatest risk of increased cost or chronic conditions to ensure that they received the services needed, whether access to specialists, transportation to a physician, food if they were food insecure.
"Long story short, from 2012 to 2017, the Connecticut Medicaid program experienced the greatest per-member, per-month cost reduction of any Medicaid, Medicare, or private plan in the nation."
Long story short, from 2012 to 2017, the Connecticut Medicaid program experienced the greatest per-member, per-month cost reduction of any Medicaid, Medicare, or private plan in the nation. This success was documented in a Health Affairs article. A health researcher from New Haven estimated that the program saved the state billions of dollars.
Our administrative cost burden was a little under 3%, let's say 2.5%. Most Medicaid programs pay private organizations anywhere between 8% and 12% to administer Medicaid services. So if you just look at a 5.5% reduction off of a $6 billion base for administrative purposes, you realize minimally a $300 million annual program cost avoidance.
As Teresa said, before coming to Connecticut, I was privileged to lead public and environmental health in Kansas. And my goal under then-Governor Sebelius was to integrate those two functions. We launched a Healthy Kansas initiative as the public health component of the governor's health reform agenda. On the environment side, we began to look more closely at our permitting processes and environmental sustainability.
In 2007, I became the first U.S. official to deny an emissions permit on the basis of climate change. This was a coal-fired plant planned for the western part of the state. Earlier that year, in April, Massachusetts vs. EPA was decided by the U.S. Supreme Court and affirmed that CO2 could be defined as an emission. I used this ruling and an endangerment finding as the basis of my decision. Then, all hell broke loose. Governor Sebelius vetoed three actions of the legislature seeking to overturn the decision. She prevailed each time.
On election day 2010, Sam Brownback was elected governor of Kansas. It was still a tumultuous time, but that led to me transitioning out of Kansas to Connecticut.
After I left my role in Connecticut in July 2019, I decided that I wanted to pursue impact at scale, and I thought the private sector would afford that opportunity. I chose Salesforce because of the culture, the values, and the market-leading technology they had begun to create for the public sector marketplace.
Over the last year, Salesforce has responded aggressively to COVID and other challenges we've been experiencing domestically. The organization committed over $200 million to organizations advancing racial equality and justice. Fifty million pieces of PPE were sourced for hospitals, $30 million donated to frontline organizations in support of relief efforts. And in education, $20 million to help schoolchildren go online and learn from anywhere—not that the organization was asked to do it these things, but it was some of the ways it could help. Additionally, Salesforce is partnering with GAVI, a global NGO, to help deliver two billion doses of COVID vaccine to developing countries across the globe by 2023.
There's also the value of the Salesforce workforce. Each employee is encouraged to give back 1% of their time, as the organization contributes back 1% of its equity and 1% of the product. So not only are we actively engaged in a business sense, but we're also trying to support communities and organizations that our products touch. It's a culture. It's not a gimmick. It's something that the organization does because it's the right thing to do.
When Teresa and I spoke last year, we spoke about how the organization was supporting public-sector organizations in their contact-tracing responses. Since then, and over the course of the year, most residents of the United States are supported by contact-tracing solutions powered by the Salesforce platform. That's a story that few people have heard, but we were able to go from no deployments to be the leading solution. And since then, we've focused on supporting vaccine administration programs.
"With COVID, we were able to rapidly deploy technology to augment or replace existing public health systems. But we also see this as an opportunity to create a public health platform that centers on equity."
In terms of framing the conversation, it's important to understand that public health has been woefully underfunded over the last decade. COVID exposed the lack of readiness and capability in terms of human and technological resources. Much of the technology was secured through solution-focused, grant-funded opportunities with little opportunity to think about interoperable scalable systems. And with COVID, we were able to rapidly deploy technology to augment existing systems in most instances and replace systems when the customer desired.
But we also see this as an opportunity to create a public health platform that centers on equity. That's really where the work needs to be extended. And as we think about supporting public health objectives to increase whole population wellbeing, the Salesforce platform can certainly help. Solutions to support syndromic surveillance, a 360-degree view of a community with the people and the environment in which they live. Knowing what's going on in communities, being able to survey community members, being able to communicate in ways that maximize social media channels allows public health organizations a more powerful capability for community health assessment and analysis.
Back when I was in working in public health, we only had to worry about, say, four channels for an effective communication program. Now with over 100 social media channels, public health leaders need to access to significantly more channels, sample them, understand public sentiment, and position messages that people will understand. Residents need to understand their options, how choices, resources, and supports can help sustain and improve wellbeing. So that's an example of how the private sector and the public sector can begin to forge a relationship to elevate the wellbeing of the population through public health—again, centering on equity because that's really where we all have a role to play.
Chahine: I agree. I think the private sector has a huge role to play and that the public sector needs to drive it because it needs to center on equity, as you said. Racial inequity in the drivers of health and in health outcomes has always been there, but only people in the public health sector knew about it and were working on it. And now it's been really brought to the forefront of everybody's mind and everybody's agenda. And that's why I think this is a moment in time when everybody has a role to play.
In many cases, the private sector worsens inequities. But you can just as easily imagine a situation where the private sector has a role to play in improving health inequities and racial inequities. And I think it's the job of the public sector to be really proactive and strategic about how it's going to engage the private sector and work with the private sector so that the role of the private sector will improve those inequities rather than making them worse.
Bremby: Absolutely. I participated in a town hall meeting earlier this afternoon. And I mentioned that we are in a race unlike any other in our lifetimes. There's a race to community immunity so that the coronavirus becomes less able to spread by having fewer available hosts. But we have to do this by centering equity. If we lose this race, the virus will continue to spread and mutate. We can only run as fast as trust will allow, and so it's a process of building and rebuilding trust while accelerating the vaccination effort. It's unlike anything I've read about either in public health or in history. If too few people of color are vaccinated, we can't get to community immunity.
Chahine: And we've already seen that so far, vaccination has been yet another failure in health equity and racial equity. Already, the data shows that in communities of color, that there are fewer vaccination spots and more barriers to vaccination. We're falling short.
In order to be equitable, more investment needs to be made in tackling the barriers, not just the number of vaccination sites, but also people having assistance signing up for vaccinations and with transportation, thinking about where you're going to locate it. What if people don't have a car? What if people don't have a smartphone or internet?
Bremby: One of the challenges in this process, and we'll continue to hear this until we solve it, is that we are not adequately capturing enough data on who's being vaccinated. In the first report issued by the CDC, almost half of the 12 million people who were vaccinated did not report, or the data was not captured, regarding their race or ethnicity. So we truly don't know how many within that first 12 million U.S. residents were vaccinated by race and ethnicity. Many systems don't capture that at all.
And I was taught early on in my local government career that what matters gets measured. And so if we truly value equitable distribution of this vaccine, we'll be more intentional about measuring vaccination rates at racial and ethnic level. We will design our systems in a way to capture that critical information—while respecting the wishes of the individual if they choose to not disclose it. But, we should give them the opportunity to disclose and inform them of the value of disclosure so that we can have better data to inform our collective progress.
Chahine: You mentioned trust. Can you speak to the historical roots of that lack of trust in communities of color?
Bremby: Yes. There is a lack of trust endemic within the Black American community towards health and healthcare systems. Historically, there has been experimentation, if you will, on people of color. There have been incidents of people taking and using black bodies, for medical and other experimentation. The Tuskegee syphilis experiment, where Black men with syphilis were not told of their diagnosis nor treated to permit researchers to understand the course of this affliction. And then the Henrietta Lacks story, about the DNA of a woman being used for scientific research for decades without the family even knowing that her DNA had been used in this way. Those are historical incidents.
What is current, consistently, in the present day, is that there is health inequity exists in most areas that you look. There are stories about people of color being treated differently in emergency departments, where they're undertreated for pain. Not too many months ago, a physician that had contracted the coronavirus was turned away from the very hospital in which she practiced because they thought perhaps her condition wasn't as dire, but the diagnostics weren't applied with the same rigor. An advocate on her behalf actually got her admitted to her own hospital, where she subsequently died. But that shined a recurring light on the fact that health inequity continues to persist, regardless of affluence, regardless of knowledge, or education. It's something that we have got to wrestle with and get our arms around as a culture.
Getting the messages out that people of color were a part of the vaccine trials, that the vaccines are effective, that there is no unintended harm or intentional harm for people of color—those are the types of messages that need to be exposed, as well as communicated back into the community through trusted members like clergy, teachers, neighbors, and other community leaders.
Chahine: Just this morning, I found out that I have a paper accepted for publication that's about building trust in public-private partnerships. What are the success factors in building trust? Four main patterns emerged when we looked at interviews among participants, which is that results matter, people matter, context matters, and alignment of goals matters.
How do you build trust? With results. You plan for deliverables that are attainable. And you need to plan for short-term and long-term deliverables because when something is delivered, that builds trust. It can't be something abstract. You have to deliver.
The second thing is that it really matters who the person is. It's not just the institution. People trust a person. It's the people who build trust, so it's really important who the people are that are orchestrating and implementing these partnerships. The third one is that context matters, so it's going to be different in an urban versus rural area, or in two different states, or two different countries. For example, in one country, the interviewees said, "Why would I trust the private sector? They're not interested in my health. It's the government's job. Health is a human right. And I trust the government." Whereas in another country, it was actually the exact opposite. They said, "I don't trust the government. The government has failed me, has given me nothing. But the private sector actually knows what it's doing. I buy products from this company. They deliver products to my village, so I trust in their competency."
And then the fourth one was the alignment of goals. You cannot build partnerships unless your goals are actually aligned and your incentives are aligned. And I think in this case, they are. We will all lose if we fail this. And we all have something to gain by getting it right.
Bremby: Absolutely. It so aligns with some of the conversations I just had with our team, and our reflections about the last year. We were asking people to show up with customers with persistent empathy. It's not just enough to be empathetic, but be persistent. This is not a selling cycle. This is an opportunity to get to know the customer and their pain points, to become a trusted advisor. In those instances where we were able to do so, we developed great relationships and were able to help facilitate tremendous outcomes.
Interestingly enough, the role component that you mentioned is very important. If we are not seen as worthy of another's trust, it delays our ability to generate speed to value.
Chahine: When you think about the role of the private sector in health equity, people could say, "Well, it's a supply chain. It's a vendor. How is this conscious capitalism? How is this partnership?" Well, there are different ways of engaging. You can be involved in something in a very extractive way, where you're not interested in building equity and you're not interested in building power. And you could be involved in something as a trusted advisor, as a long-term partner. Everything that's happened over the last year just highlights how much all sides have at stake in building those partnerships, and the impact they can have on society when successful.