At CBS, Less of Les Is More
In a Fortune commentary, Yale SOM's Jeffrey Sonnenfeld writes that CBS took far too long to remove CEO Les Moonves, partially because of his talent for picking hits. Whoever replaces Moonves must take a broader view, rebuilding the company's culture and expanding to new platforms.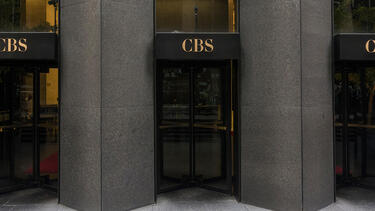 This article originally appeared in Fortune.
This year is the 90th anniversary of CBS and I've studied, firsthand, the past 45 years of its troubled pattern of CEO succession. At long last, CBS did the right thing: After a second wave of six detailed, corroborated allegations of vulgar physical sexual harassment by CEO Leslie "Les" Moonves emerged—the first wave of six came three months prior—the CBS board finally removed him from office Sunday.
Each hour Moonves remained in power was a disgrace for CBS. Firms that are tardy to remove a leader with misconduct create a leadership vacuum and cultural decay. Moonves, at minimum, could have been suspended during an expedited investigation. But the CBS board waited a week after the first detailed allegations were made public before launching an outside legal investigation—even longer if you take into consideration the journalists that fact-checked reports that brought the accusations to light.
Such atrophy and uncertainty creates resentment and confusion. Indeed, CBS paralyzed its strategic decision making process, tarnished its appeal to creative talent, and cheapened the legacy of the venerable "Tiffany Network."
Why the delay? First, an excuse—however unconvincing—to allow the accused due process. Some argue that the outcome of any objective investigation could exonerate the accused, and Moonves remained on the job accordingly. Moonves is contractually entitled to up to $200 million in severance, for which the board placed in escrow $120 million as a reserve against the outcome. If the chief executive's conduct did not meet CBS's standards of termination for cause, Moonves walks away with the money. If his conduct matches what was described in the pair of New Yorker reports that launched the investigation, he almost certainly walks away with nothing.
And my, what conduct it is. Moonves has admitted to sexual relations with multiple subordinates while serving as a CBS executive. He says he believed them to be consensual, but the alleged victims dispute the account, saying they were coerced, threatened, and—for those who resisted—punished. If the CBS board were to pay Moonves severance, shareholders would surely sue.
Another purported reason for the board's delay? Some of the allegations are ancient history. Sure, that's partly true—but some are not, and most allegedly occurred during the 24 years that he was a CBS executive. Even 35 years ago, the EEOC's definition of sexual harassment was no less clear: "repeated unwanted sexual advances" contributing to "a hostile work environment" and abuse of power. Accusations of forced oral sex, disrobing in the presence of employees, and vindictiveness certainly qualify.
Finally, some argue that the CBS board needed to await the review of outside legal counsel. That review should have been launched far earlier, but the rift in CBS's board between Moonves defenders and allies of Shari Redstone, daughter of Sumner Redstone, who holds a controlling interest in CBS, prevented them from acting more responsively on behalf of their shareholders. The board overcame its standoff by hiring two law firms; it was in the interest of Moonves to leave before either or both could conclude their investigations.
Through it all, Moonves complicated the situation through his own audacious lawsuit against National Amusements, Redstone's firm, to dilute its control with a new dividend offering. (Moonves, through CBS, challenged the requirement of a 90% supermajority vote on the board to allow CBS to issue the special dividend that would have diluted Redstone's voting interest from 79% to 17%.) The litigation proved to be an expensive distraction that ended Sunday with the removal of half of CBS's board and appointment of industry veterans such as Richard Parsons (formerly of Time Warner), Strauss Zelnick (of Take-Two Interactive), and Brian Goldner (of Hasbro).
Perhaps the mythical Moonves Mystique is to blame for the CBS board's dawdling; the broadcaster's potent performance, in particular in the wake of its 2006 split with Viacom, has been tied to its long-serving CEO. Contrary to expectations, CBS over the last decade zoomed past sibling Viacom and soared from worst to first in the primetime TV race. And it's true that Moonves should receive credit for actually reading scripts and greenlighting hits like the CSI series, NCIS, Cold Case, Survivor, and Big Bang Theory.
But is that really the job of the CBS CEO? Surely Moonves should have been focused on larger strategic opportunities like his Disney counterpart Bob Iger, whose company has seen its market cap rise from $45 billion in 2005 to $165 billion today after key acquisitions like LucasArts, Marvel, and Pixar. (CBS's market cap was around $15 billion after the Viacom split; it's about $21 billion today.) Moonves departs CBS having produced a negative total shareholder return of 6.2% this year while enjoying a $70 million paycheck; Iger has managed 7.9% positive return for half the pay, no sordid lawsuits necessary, and a wave of his own hits, including Black Panther, Avengers: Infinity War, and Incredibles 2.
The reconstituted CBS board must now select a new standard-bearer for the company—in terms of conduct as well as strategy. Great candidates abound: Former Fox entertainment titan Peter Chernin, former NBCUniversal CEO turned CNN chief Jeff Zucker—even PepsiCo CEO Indra Nooyi, who steps down from the food and beverage giant next month. Whoever is chosen must revive CBS's dominance by building, buying, and partnering to master new technology and distribution platforms. And, of course, rebuild trust in the company's culture.
Forty years ago, media critic Fred Allen said, complaining about TV programming, "Imitation is the highest form of…television." The best thing CBS can do next? Avoid repeating history.