From COVID or with COVID? (Health & Veritas Ep. 16)
On the Health & Veritas podcast, Yale physician-professors Howard Forman and Harlan Krumholz talk about the latest news and ideas in healthcare and seek out the truth amid the noise. In the latest episode, they talk about the patients who test positive for COVID-19 after being admitted to the hospital for something else, and other health issues in the news, including the explosion in healthcare spending last year, a controversial Alzheimer's drug, and the consequences of underinsurance in the United States.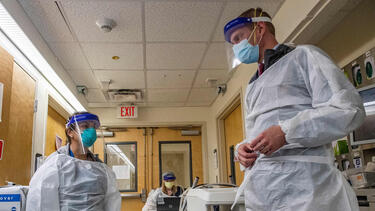 Listen now:

Subscribe to Health & Veritas in Apple Podcasts, Spotify, Google Podcasts, or your favorite podcast player.