Elizabeth Bradley: Leading Vassar through COVID-19 (Health & Veritas Ep. 6)
On the Health & Veritas podcast, Yale physician-professors Howard Forman and Harlan Krumholz talk about the latest news and ideas in healthcare and seek out the truth amid the noise. In the latest episode, they are joined by Elizabeth Bradley, an expert on global public health and the president of Vassar College. They discuss how the residential liberal arts college navigated the pandemic—and how defining a set of core values helped guide its response.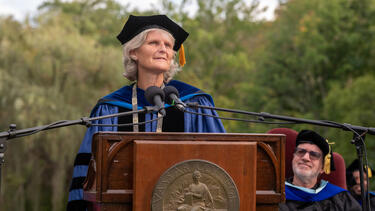 Listen now:

Subscribe to Health & Veritas in Apple Podcasts, Spotify, Google Podcasts, or your favorite podcast player.