Anne Wyllie: The Saliva Test (Health & Veritas Ep. 8)
On the Health & Veritas podcast, Yale physician-professors Howard Forman and Harlan Krumholz talk about the latest news and ideas in healthcare and seek out the truth amid the noise. In the latest episode, they are joined by Anne Wyllie, the Yale scientist who developed the SalivaDirect test for COVID-19, which was tested in the NBA's 2020 "bubble" and is now available across the U.S. They discuss the development of the technology and its potential for enabling easier testing in a variety of communities.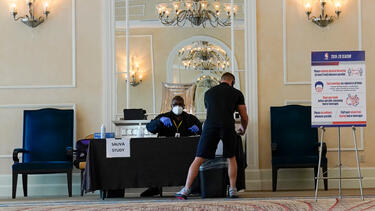 Listen now:

Subscribe to Health & Veritas in Apple Podcasts, Spotify, Google Podcasts, or your favorite podcast player.